by
John W. Mitchell
, Senior Correspondent | June 14, 2019
From the June 2019 issue of HealthCare Business News magazine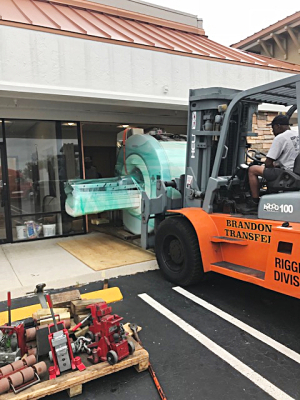 Like Knowles, Lewis has a long tenure in the rigging business; some 40 years. In most cases, Brandon Transfer and Storage takes out the old unit and moves the new unit into place. Contracting work, such as electrical, is usually handled by the client – although Lewis does, on occasion, arrange that part of the project. Lewis said his crew reviews the specs needed to make a move, such as having access to eight-foot openings throughout the entire egress.
Turns are especially sensitive and time-consuming, so the more corners they have to make with a piece of equipment, the higher the cost. He said that on average, each way of an install or a deinstall costs $4-6,000. A recent job at a Veterans Administration hospital demanded a dozen corner turns.

Quest Imaging Solutions provides all major brands of surgical c-arms (new and refurbished) and carries a large inventory for purchase or rent. With over 20 years in the medical equipment business we can help you fulfill your equipment needs

There is no excuse for an unsuccessful install or deinstallation. The job has to get done, no matter what challenges arise.
"I feel very lucky with our staff," said Lewis. "They're older, and they've seen a lot; if there's a problem — like a roller breaks or rigging legs aren't attached to the unit for a hoist — my crew stays calm, and figures it out. They are very customer oriented."
One of the main complications in an install is what can't be seen, according to Bob Iravani, owner of Chicago Medical Exchange. As both an install and deinstall expert, as well as a manufacturer's representative for several OEMs, his perspective is multi-dimensional. He's a stickler for room preparation and the challenges that often arise.
"I call it peeling back an onion layer by layer to see what's there," said Iravani. "It's not uncommon to find we can't put a breaker box where we planned because there's an unmarked I-beam or duct behind a wall. So we often have to work with hospital engineering, radiology, and bioengineering to make modifications on the fly."
He does not fault customers for surprises; it's just part of the job. After all, even large facilities don't do an install and deinstall very often, and there's a lot to know. Iravani works to be accommodating and counts on some change modifications in the project.
Jeremy Fox, operations coordinator for DirectMed Parts, said his company tries to have its first discussion with a client a month ahead of the project. It works best, he said, with good communication well in advance and flexibility on both sides in the event of any unplanned wrinkles. The most common complication he encounters is when smaller imaging centers don't have a construction crew on-site (unlike hospitals).