by
Lisa Chamoff
, Contributing Reporter | September 30, 2019
From the September 2019 issue of HealthCare Business News magazine
Artificial intelligence (AI) has been a buzzword in imaging for the last few years.
Recently, in the CT market, AI has gone from dream to reality, with several companies offering image quality enhancements using machine learning.
This comes along with the release of compact systems for outpatient orthopedic imaging and wide-bore systems for larger patients.
Here's a look at what's new in CT scanners and software.

Numed, a well established company in business since 1975 provides a wide range of service options including time & material service, PM only contracts, full service contracts, labor only contracts & system relocation. Call 800 96 Numed for more info.

Canon Medical Systems
In June of this year, Canon Medical Systems received FDA clearance for its Advanced Intelligent Clear-IQ Engine (AiCE), which uses a deep learning algorithm to differentiate signal from noise in CT images, so noise is suppressed while signal is enhanced.
"It makes it easier for the physician to read and have a natural texture for the image," said Tim Nicholson, senior marketing manager for Canon Medical Systems. "With the (previous) dose reduction, you gave up texture. With this type of reconstruction using deep learning, it really brings that image quality up another step and it can go a step further in lowering the dose because there's less noise in the image."
AiCE is available on new purchases of Canon's Aquilion ONE / GENESIS Edition, released three years ago, and the Aquilion Precision platforms, released in April 2018. The company plans to eventually make AiCE available on new mid-tier scanners.
"We believe our deep learning reconstruction will be superb because it's fast enough to use on every single exam," Nicholson said. "We have quantifiable claims we used in our FDA submission on noise reduction and low-contrast detectability."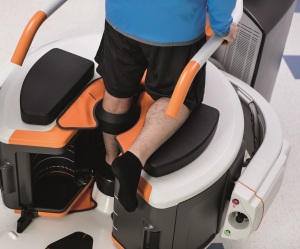 Carestream
Carestream released its OnSight 3D Extremity System in February 2017. Since the release, it has added workflow improvements and enhanced metal artifact reduction.
"We are able to handle much smaller pieces of metal and bigger pieces of metal such as knee implants," said David Chan, regional business director for the U.S. and Canada for Carestream. "They can see micro fractures or signs of infection."
The scanner allows imaging from the distal femur to the toes with and without weight bearing, and the distal humerus to the fingertips, allowing surgeons to have a better image of the problem before a procedure. The systems are designed for sports medicine facilities.