by
Lisa Chamoff
, Contributing Reporter | September 30, 2019
From the September 2019 issue of HealthCare Business News magazine
Carestream is next tackling deep learning to improve image quality as well as the validation of 3D measurements.
"Now, weight-bearing measurements are done on 2D projection radiography," Chan said. "We're leveraging some of these developments into 3D measurements and validating their accuracy and validity in a working group."

Numed, a well established company in business since 1975 provides a wide range of service options including time & material service, PM only contracts, full service contracts, labor only contracts & system relocation. Call 800 96 Numed for more info.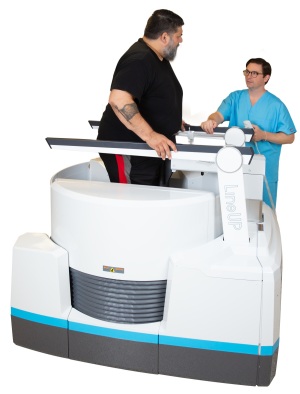 CurveBeam
Since receiving FDA clearance for its LineUP bilateral weight-bearing CT imaging system for the knees and lower extremities, in May 2018, CurveBeam is developing an upgrade that will extend imaging capabilities up to the hips.
"The body would be slightly modified so that the gantry could raise higher," said Vinti Singh, marketing manager for CurveBeam. "The capability to scan up to the hip is essential for pre-operative planning for knee replacement surgery because the hip is a required anatomical reference point."
The key features of the device, including a compact footprint and the ability to plug into a standard wall outlet, will remain.
"Research demonstrates weight-bearing CT may be instrumental in detecting early signs of knee osteoarthritic degeneration," Singh said. "In addition, studies show you can view the knee meniscus better via weight-bearing CT arthrogram than on MRI."
The company is aiming for a 2020 release for the hip scanner.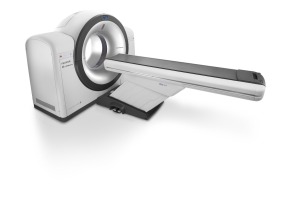 FUJIFILM Medical Systems U.S.A., Inc.
FUJIFILM Medical Systems U.S.A., Inc. announced its entry into the CT market at last year's ASTRO with its FDA-cleared FUJIFILM FCT Embrace, which the company says is the world's first 64- to 128-slice scanner with an 85-centimeter bore.
"We're new in this space but we're not new to digital imaging, with continued advancements from X-ray film in 1936 to digital radiography and AI today," said Rick Banner, senior director of marketing for CT, DR and women's health at FUJIFILM Medical Systems U.S.A., Inc.
The system provides a seamless transition from oncology to radiology with rapid acquisitions of chest and gating studies and a wide 49-centimeter table, Banner said.