by
Lauren Dubinsky
, Senior Reporter | October 14, 2019
From the October 2019 issue of HealthCare Business News magazine
If you've ever undergone a diagnostic imaging exam and came out of it without having experienced any anxiety, count yourself among the lucky (or brave) few.
For all the medical value that comes from it, climbing into a scanner, especially something as loud and time-consuming as an MR bore, can be extremely unpleasant. One 2018 study published in the journal La Radiologica Medica found that 91 percent of patients receiving diagnostic imaging services reported high levels of anxiety.
How a patient feels is more important than ever, now that their satisfaction is tied to reimbursement. But the question is, how can you alleviate their anxiety while also addressing clinical outcomes and financial constraints?
The most common reason patients fear MR exams is due to claustrophobia. It's natural to feel uncomfortable in an enclosed space for 45 minutes, but some patients are not able to tolerate it. Even worse, according to a 2007 article published in the Journal of Magnetic Resonance Imaging, claustrophobic patients abort around 2 million MR scans around the world every year.

For those who need to move fast and expand clinical capabilities -- and would love new equipment -- the uCT 550 Advance offers a new fully configured 80-slice CT in up to 2 weeks with routine maintenance and parts and Software Upgrades for Life™ included.

The loss of productivity and additional costs that come from cancelled scans have made wider-bore MR units increasingly desirable to providers hoping to minimize the impact of claustrophobia on their patient throughput.
Noise is another common complaint. The noise level during scanning can reach up to 110 decibels, which is equivalent to a loud rock concert, said Joseph Caruso, chief operations officer at MRIaudio.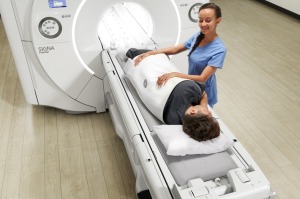 On top of everything else, it's easy to forget that people receiving MR scans are usually getting them done because there could be something serious going on inside their body. That can often be the biggest source of anxiety, and it's something providers and technologists should take into consideration.
"We have to continually remind ourselves that for us it might be just a normal day at work, but for the patients this an event that breaks their daily routine," said Christoffer Remøy Endresen, marketing director at NordicNeuroLab AS. "An MR exam is something one does a few times during a lifetime."