by
Sean Ruck
, Contributing Editor | March 20, 2020
HCBN: What makes Hutchinson Regional Medical Center stand out?
WH:
Culture — what you see is what you get. Our mission drives our culture, which means we support our community. That is why we exist. Our values are something we not only promote and display, but we hold ourselves accountable and coach each other to be better every day and apply our values in all aspects — not just at work, but at home and in the community.
We're the largest employer in our community. There's a commitment when you have that, but it's also a very strong obligation to do the right thing. We do that, we understand that, and we take it seriously. Our health affects the community health.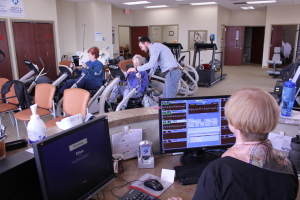 HCBN: Can you talk about some of the challenges Hutchinson faces?
WH:
I wish I could say our challenges are unique to what everyone else is facing, but there are so many challenges. We're not a major metropolitan area, but we're within 50 to 60 miles of one. We're challenged with recruitment of medical professionals because in a rural community like we are, the government considers us rural, but also within close proximity to a metropolitan statistical area. So you have the challenge of leakage, recruiting, people going back and forth each way for a few cents more of pay.
We also have the challenge of access that we constantly struggle with, because if you don't have the right medical professionals and people can't get in, that subsequently feeds what you do in a medical center. There's also market share and competing for medical resources. And we are struggling every day like every other facility with an ever-changing payor mix and reimbursement structure. Every year, the government is changing some rule or regulation that has a ripple effect on healthcare organizations as we work to remain compliant. My payor mix is roughly 60% Medicare, 20% commercial, 10 to 12% Medicaid and then 8 to 12% self-pay, depending on time of year. If 60% of my payor mix is based on government payor, you strive to remain solvent based on that, but you really can't do it because of all the rules and regulations that come with accepting that money.
My biggest expenses are going to be my personnel costs, labor and benefits. After that, it's maintaining the buildings and utilities. When I get past that, it's all the consumables with the single greatest consumable expense being pharmacy. When you think about an unregulated area where you can name your price, that really hits your bottom line, because not every payor or insurer reimburses you the same. You have to hire people just to negotiate the system, which is direct overhead.