by
Sean Ruck
, Contributing Editor | March 20, 2020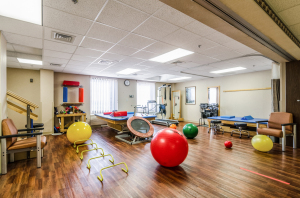 HCB News: Do you work with any local schools to introduce students to a healthcare career?
WH:
We do. Starting with the secondary education level, we partner with all the public and private high schools and offer a program every summer that's eight to 10 weeks long. We bring in 10 to 15 students that go through an application process and rotate them through almost every department in the hospital. Basically, it's a healthcare internship program. We have a great success rate for them going on and pursuing nursing careers and other healthcare service careers, it's a good introduction to healthcare.
We also partner with the local community colleges and universities as a residency site for their nursing, respiratory therapist, OT/PT, and speech therapy programs. We help with instructors, but also open our organization for them to come in and do their actual live didactic and hands-on portion.
HCBN: Are there any recent notable expansions or improvements?
WH:
There are. When I arrived three and a half years ago, I was fortunate to come into a facility that was well-built in the early 70s, had great infrastructure, but was aging. We spent the last three-and-a-half years slowly reinventing ourselves — repairing things that needed repairing, overhauling a lot of the infrastructure, but also examining what service lines we really wanted to be in. Recently, we reopened our orthopedic ward after overhauling our service line. We completely embraced the enhanced recovery after surgery protocols, purchased a new orthopedic Mako robot which not only helps the surgeons be more precise, but also reduces the length of stay. We renovated our ward and now it's a state-of-the-art orthopedic center that has caught the attention of local community colleges who partner with us to be their orthopedic center of excellence.
HCB News: How do you anticipate healthcare will change over the next five to 10 years?
WH:
I don't see the costs going down. As a result, I see the financial pressures causing us to be very innovative in where we deliver healthcare. We're so fixated on the brick and mortar because that's where people see their comfort. In many ways, it's a safety net for people. Yet, as it gets more complicated and more expensive, I think we'll see healthcare pushed into the home. So I see an evolution in the number of actual beds that we need in brick and mortar facilities, through the use of telemedicine and the instant access to diagnostic results and images. Hospitals are becoming more virtualized. This is especially true in addressing the healthcare needs of patients in other rural and frontier communities. Our focus will continue to be to provide access to high-quality, patient-centered healthcare that is reasonably priced.
Back to HCB News