by
John R. Fischer
, Senior Reporter | April 06, 2020
From the April 2020 issue of HealthCare Business News magazine
Using tactics similar to those deployed the MR imaging suite, many proton therapy providers are turning to audio and visual stimulation to help curb the anxiety pediatrics patients may feel in the treatment environment. Perkins and his colleagues are currently participating in a trial conducted by Stanford University to weigh the advantages of incorporating movies into proton therapy as a way to distract children and keep them entertained.
At the Medical Institute of Berezin Sergey in St. Petersburg, patients can look out the window and watch real live monkeys playing in an enclosed habitat. Looking at the animals transports pediatric patients from a place that may be frightening and intimidating to a private zoo exhibit. "They feel better because the monkeys make them feel it's not a scary place," said Stolpner, adding that the distraction ultimately allows for more efficient treatment.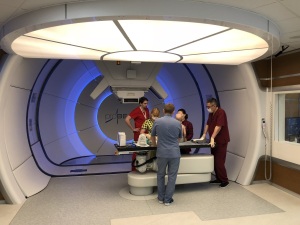 Although less exotic, another tactic for reducing the need for anesthesia is to enlist child life specialists trained to communicate with young patients and their families about what to expect during the proton therapy experience. In some cases, these professionals can help children understand why it is better to be brave and remain still than to request anesthesia.
"Certified child life specialists have an integral role in reducing the number of children who need anesthesia," said Jennifer Maggiore, executive director of the National Association of Proton Therapy. "You also must have care coordination by nurse navigators and oncology social workers to ensure children receive comprehensive cancer care and adequate resources throughout their treatment."
Insurance coverage and clear communication
Payors in the U.S. have been increasingly cooperative about covering proton treatment for pediatric patients who will benefit the most from having it.
"Children have much longer to live after cancer treatment so survivorship in many ways is kind of more important if you are looking at 80 years of survival," said Dr. Christine Hill-Kayser, chief of pediatric radiation oncology at Children's Hospital of Philadelphia. "In addition, we know that normal tissue in kids is more sensitive to damage from radiation. These two factors together increase national recognition of the need for this technology."