by
John R. Fischer
, Senior Reporter | April 06, 2020
From the April 2020 issue of HealthCare Business News magazine
On the other hand, not every pediatric cancer patient is a good candidate for proton therapy, so it's important for referring physicians to be able to explain their reasoning. Parents (and patients) are increasingly seeking medical advice online so there will be cases where a family seeks proton therapy even though conventionally radiation therapy offers comparable outcomes with less difficulty.
"There are times in my opinion where it is optimal to have a patient treated on a therapeutic photon machine where the treatment can be delivered more efficiently for them," said Hill-Kayser. "The treatment may be quicker and easier to tolerate so fewer kids need anesthesia with X-rays."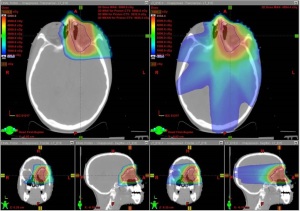 Toward better access, better techniques
Pediatric access to proton therapy has improved steadily as evidence recommending the treatment has accrued. Looking toward the future, experts see availability increasing as techniques become more sophisticated and capital expenses come down.
"Advances in technology are reducing the cost of implementing proton therapy in a cancer center or hospital, allowing more patients to have this treatment available closer to their home," said Maggiore. "As research evolves and demonstrates the value of proton therapy, we will encourage and advise commercial insurers to include proton therapy for more cancer sites in cancer treatment guidelines, ensuring this advanced technology is adopted for more cancer patients."
As single-gantry facilities continue to open, conventional proton treatments will become more accessible to a greater population, but Dr. Thomas E. Merchant, chair of the department of radiation oncology at St. Jude Children's Research Hospital, expects that high-volume academic providers will continue to lead the way in managing the more complex cases.
"I think for some diseases, it's better to be treated at an academic medical center," said Merchant. "For other conditions or clinical scenarios, it might be fine to be treated closer to home. I think the guidelines for that have yet to be sorted out."