From the July 2020 issue of HealthCare Business News magazine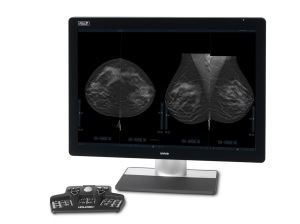 Hologic
Over the last two years, Hologic has made a few acquisitions, including of digital specimen company Faxitron Bioptics, bioresorbable tissue marker developer Focal Therapeutics and ultrasound manufacturer SuperSonic Imagine.
The Supersonic Imagine acquisition in August of last year provided Hologic with an entrée into the ultrasound market using the company's Aixplorer and MACH 30 platform.
"Our global reach and footprint will create new commercial opportunities with these platforms," said Samir Parikh, the global vice president of research and development for Hologic.
Last November, the FDA approved Hologic's 3DQuorum Imaging Technology powered by Genius AI, which works with Hologic's Clarity HD high resolution imaging technology to reduce tomosynthesis image volume for radiologists by 66%. This results in improved read time.
"You can reduce almost an hour of an eight-hour workday," Parikh said.
Also last November, the company debuted its Unifi Workspace, which integrates the reading of MR, ultrasound and mammography into one platform, which Parikh said also improved workflow efficiency.
Radiologists also get personalized hanging protocols when they're logged in.
iCAD
iCAD has continued improving the overall sensitivity and specificity performance of its ProFound AI software, which was FDA cleared in December 2018. The software aids in the detection of breast cancer in digital breast tomosynthesis and assists in clinical decision-making and improving reading efficiency, providing radiologists with Certainty of Finding lesion and Case Scores.
It is also focusing on further enhancing the ProFound AI algorithm by adding the ability to analyze a woman's prior mammography images to better determine the likelihood of malignancy.
"In other words, ProFound AI will be able to determine if a mass or calcification cluster has changed since the last mammogram, which can be an important indication of cancer," said Michael Klein, chairman and chief executive officer of iCAD.
The software, which the company says provides a 52.7% reduction in reading time for radiologists, will help resolve the issue of prioritizing patients in the wake of the COVID-19 pandemic, Klein said.
In late 2020, iCAD will be launching a short-term risk assessment solution that can help determine a women's risk of developing cancer prior to her next screening. The solution, ProFound AI Risk, was developed in partnership with researchers at the Karolinska Institute in Stockholm, Sweden.
The risk model assesses the risk of developing breast cancer based on the patient's age and information found in their mammography images. Along with age, the risk model factors in the presence of masses, calcifications, breast density, and their asymmetry to determine the risk of developing breast cancer in the next one or two years or before the next screening.
A large retrospective study conducted in Sweden showed that the risk model significantly outperforms traditional risk models that are based on family history, lifestyle factors and genetics when determining short-term risk, Klein said.
"We believe this new risk model will be a catalyst in the long-overdue transition from age-based screening to risk-based screening," Klein said. "This product will offer a more holistic clinical approach that can provide clinicians with a broader view of each individual patient's case and short-term breast cancer risk. ... We believe this AI-centric panoramic view of a woman will lead to even earlier cancer detections, as well as a much more appropriate utilization of breast cancer screening resources including both supplemental screening and screening frequency."
The product will first be available for full-field digital mammography with a primary focus on the EU market in the third quarter of 2020. In early 2021, the company plans to release a version of ProFound AI Risk for digital breast tomosynthesis.