From the July 2020 issue of HealthCare Business News magazine
Siemens Healthineers
The company has a software update for its MAMMOMAT Revelation that has just received FDA clearance. Called VC20, the software will include efficiency boosts, including faster calibration of the system — from 76 minutes down to five minutes — as well as a faster booting time of four minutes versus 20 minutes and 50-degreeTomoFlow, a feature that permits faster exam times.
With the 50-degree TomoFlow, the patient doesn't have to wait in between image captures with a compressed breast, providing a better patient experience, said Sammie Stein, women's health product manager at Siemens Healthineers North America.
"Before, the technologist would take the image and wait," Stein said. "Now, they can take images back to back and the reconstruction happens in the background."
Storage on the system has also been doubled and image transfer is more flexible, and can be done after each exam or each exposure.
"There is flexibility in what works best for their practice," Stein says.
The company also plans to release new accessories for biopsies, including a spacer plate that allows for easier imaging of smaller breasts, allowing for less space between the compression panel and the table, and a lateral needle holder for easier lateral targeting.
Siemens Healthineers also released an upgrade to its XA20 software for the BioMatrix family of MR scanners, including the 3T MAGNETOM Vida and Lumina systems and the 1.5T MAGNETOM Sola and Altea scanners.
The update includes an AI workflow enhancement for breast biopsy imaging, with automatic calculation to improve needle positioning together with the Select&GO feature to see target positioning information on the scanner itself.
"Before, you would have to plan and target each lesion individually, moving between the scan room and control room to take each biopsy," said Kelly Parker, senior product marketing manager for MR at Siemens Healthineers North America. "Now you can plan the targets for all biopsies at the same time, then return to the scan room to perform the biopsies, resulting in a more streamlined workflow for the clinician and the patient."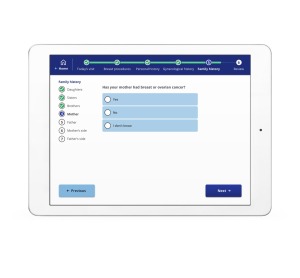 Volpara
Last year, Volpara Solutions acquired MRS Systems Inc., a software company with a reporting system that allows healthcare providers to document patient history, risk factors and radiology findings from breast screening exams.
Mark Koeniguer, chief commercial officer and president of the U.S. division of Volpara, said the merger brings together VolparaRisk software, a breast cancer risk assessment software, and Aspen Breast product, marking a shift from traditional pure screening to risk stratified screening.
"With the acquisition of MRS last year … we can fundamentally change how women are triaged to provide supplemental imaging based on risk," Koeniguer said. "If they are dense but not high-risk, they might be a candidate for ultrasound and not MR. Whereas, a woman at high risk may be a candidate for MR despite other factors. The two (products) fit together and speak to one another."
Customers of the VolparaPlatform, which was launched at last year's RSNA, include customers across the imaging spectrum, from small imaging centers to large IDNs, and it has increased breast cancer detection rates.
"A lot of this information existed in various forms in different parts of the department, but it wasn't easily accessible during the reading of the mammogram," Koeniguer said. "There are sites using this and their detection rates are higher."
Back to HCB News