by
Lisa Chamoff
, Contributing Reporter | September 21, 2020
From the September 2020 issue of HealthCare Business News magazine
ScanMed
ScanMed recently released an upgrade to its PROCURE prostate pelvic coil, changing the fabric and foam housing to a full foam housing, allowing it to be fully flexible and help it conform to the body.

For those who need to move fast and expand clinical capabilities -- and would love new equipment -- the uCT 550 Advance offers a new fully configured 80-slice CT in up to 2 weeks with routine maintenance and parts and Software Upgrades for Life™ included.

"We've also worked on the configuration of the internal antenna elements so it's flexible as well," said Natalie Hussey, ScanMed's marketing manager. "When the antenna elements are closer to the body, it produces better images."
The coils are compatible with GE Healthcare, Siemens Healthineers and Philips MR scanners.
Through its subsidiary Bot Image, the company recently passed the administrative review for FDA 510(k) clearance for its ProstatID software, which uses AI to assist radiologists in prostate cancer detection through MR.
The software processes the image data and generates a colorized map, with red indicating that there may be a suspicious lesion.
"There are assistance tools on the market that help physicians physically circle suspicious areas," Hussey said. "This does that automatically."
The tool is designed to help radiologists in reading the exams, Hussey said.
"We saw the opportunity to get into the software space as a result of the PROCURE coil and what we encountered in the market and seeing what radiologists were experiencing reading prostate images," Hussey said. "We're really looking to get them a tool to help."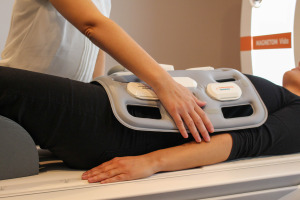 Siemens Healthineers
The most recent MR developments from Siemens Healthineers include its new BioMatrix Body 18 MR coil.
The blanket-like coil, with Tim 4G coil technology, contains openings which provide breathability, said Chris Farischon, MR product manager for Siemens Healthineers.
"Personally, I'm a claustrophobic patient, and feeling warm adds to that claustrophobic feeling," Farischon said.
The coil's cable plugs into the head end or foot end of the table and SlideConnect technology helps to guide the coil plug into the table.
The coil offers the ability to do parallel imaging.
The company also introduced its Turbo Suite Excelerate MR software, which Farischon said will be helpful in speeding up scans as facilities address the COVID-19 imaging backlog and more stringent cleaning guidelines.
Two components of Turbo Suite Excelerate include Simultaneous Multi-Slice (SMS) and Compressed Sensing (CS). Simultaneous Multi-Slice technology speeds up common exams, with a complete knee exam sped up approximately 50% and breast diffusion seeing approximately 60% reduction in time. Additionally, Compressed Sensing provides acquisition time reductions along with new capabilities for 3D imaging, especially in the depiction of dynamic processes or moving organs.
"We can scan much faster, enabling the technologist to spend time disinfecting the equipment but still keep on time," Farischon said.
The Turbo Suite Excelerate package is available on the company's MAGNETOM Altea, Lumina, Sola and Vida scanners, along with the BioMatrix Fit upgrades for Aera and Skyra.