by
Mai Hiraoka
, Media Relations Manager | October 16, 2020
From the October 2020 issue of HealthCare Business News magazine
The following are just some of the products and services raising the bar for radiation oncology providers.

BR+A Consulting Engineers • Hong Kong Sanatorium & Hospital
Proton Therapy Center in Happy Valley, Hong Kong, China
Faced with a challenging and constrained site, BR+A worked with Hitachi (proton equipment vendor), Tsoi Kobus Design (architect), and the Owner to arrange the proton system vertically, rather than horizontally, with the synchrotron and gantries located 40m below ground, and the beam line running vertically down three stories. An 18-story outpatient facility sits completely above the proton center. The project presented many site logistical and equipment technological challenges to the project team, which were successfully overcome, resulting in a showpiece project. Patient treatment scheduled for 2022. Rendering courtesy of Tsoi Kobus Design.

MIT labs, experts in Multi-Vendor component level repair of: MRI Coils, RF amplifiers, Gradient Amplifiers Contrast Media Injectors. System repairs, sub-assembly repairs, component level repairs, refurbish/calibrate. info@mitlabsusa.com/+1 (305) 470-8013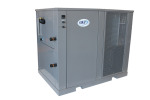 Cold Shot Chillers • ACWC-90-DM Air-Cooled Water Chiller
Our model ACWC-90-DM is an air-cooled water chiller. Two pumps are used with this chiller. A chiller pump is used to recirculate the fluid through the tank and evaporator to provide a consistent chilled fluid for your linear accelerator. A process pump is used to provide the proper flow and pressure needed based on the piping layout and the model of linear accelerator used. An onboard PLC monitors the operation of the chiller and will report any errors in a numeric code to the temperature controller LED display. This feature has proven to reduce downtime.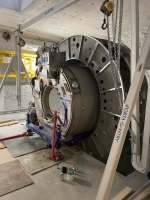 H&H Design-Build • Healthcare Design and Construction Solutions
Even in the midst of a pandemic, we continued to deliver 'essential' health care projects for our clients and maintained safe and clean jobsites for the patients, staff, and construction workers. On time delivery of MRI's, MR-Linacs, CT Scanners, ER FastTrack and many more projects stayed on course and on time. Our team of architects, project managers and superintendents are focused on the needs of each project we develop for our clients.