by
Mai Hiraoka
, Media Relations Manager | October 16, 2020
From the October 2020 issue of HealthCare Business News magazine
Proton Flash therapy has the potential to revolutionize the radiation therapy world. It will enable Shorter treatment course with only 1 to 3 fractions which increases significantly patient comfort and overall throughput and less toxicity in healthy tissues while maintaining tumor control. As the industry leader, IBA is collaborating with several leading proton therapy centers in their pioneering research work to better understand the mechanisms of FLASH irradiation.
*Proton FLASH Therapy is currently under research. It is not available for sale.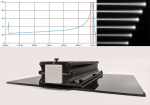 Logos Systems International • Ranger-300
The Ranger-300 proton beam range verification tool gives a real-time view of 30 cm of the proton beam path as it travels toward its target depth, including the Bragg peak area, and proximal/distal locations of interest.
When mounted on the Logos Systems XRV-3000 Eagle or XRV-4000 Hawk phantom, the Ranger is oriented so the beam enters the 40 x 40 mm target window of the 305 mm transparent scintillator block. It is close to tissue equivalence, and the effective resolution is better than 0.5 mm over energy ranges from 70 to 230 MeV. Powerful BraggPeakView software performs the depth analysis. Visit LogosVisionSystem.com for information.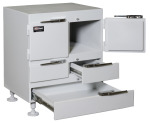 MarShield • Lead Lined Laboratory Furniture
MarShield manufactures a wide range of Standard or Custom Designed Lead Lined Laboratory Furniture suitable for Nuclear Medicine or Radiochemistry laboratories. MarShield has worked extensively with architects, engineers, contractors and end-users like doctors, hospitals, laboratories, and medical and veterinary clinics to ensure that our designs are functional and harmonious with their surroundings while meeting radiation code requirements. Please refer to our Cabinet/Furniture quotation and information guidelines at MarShield.com to design one for yourself today!