by
Sean Ruck
, Contributing Editor | December 11, 2020
From the November 2020 issue of HealthCare Business News magazine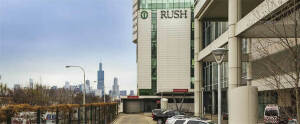 HCB News: Communities of color have been hit harder by the pandemic. Was that the case for Rush?
VR-S:
I think that's absolutely true; we did see a higher percentage of those patients who were COVID-positive in-house. It's very consistent with what other communities have stated. What I'm proud of, is that because we had the connections with the community, it helped us in terms of when patients were recovering and transitioning out, we had those strong connections and processes in place in terms of transitions and care and we knew how to work with those communities.
HCB News:
How do you predict healthcare may change due to the lessons learned during the pandemic?
VR-S:
I think the use of technology will definitely change moving forward. There's been reticence for some providers in terms of virtual care. Those days are gone. Another thing COVID has spurred is innovation. How you engage with patients, how waiting rooms are used, ambulatory care, all that will be changed. It's going to transform how we engage with our patients and even with our patients' families.
Back to HCB News