The entire RSNA is not just a show/conference for me, but an event, a great get to together, an exchange of ideas, fun, newest science and equipment information, and of course business talks. Corona = NO RSNA!! … and Corona = only one flight in all of 2020 for me (February to attend the SPIE conference in Houston) instead of >100 by the time that I fly to Chicago. This damn virus caused all of that, but let's be honest it also made us think about what is important and brought us - very quickly - new approaches to address certain issues.
As a member of the RSNA I was offered to attend the virtual event for free
(I probably would not have paid for it … or not a lot at least — I admit!)
and since this would have been my 30th attendance I signed up with the goal to look for the RSNA spirit.

Numed, a well established company in business since 1975 provides a wide range of service options including time & material service, PM only contracts, full service contracts, labor only contracts & system relocation. Call 800 96 Numed for more info.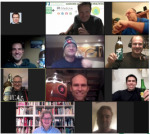 Enclosed some of my personal findings and learnings. But before I do that —
for the ones reading this the first time ... I always include an activity and food report of every day RSNA attendance
— well, I swam every day at home, took my dog for walks at least twice every day, and ate decent meals … and we had our M3 meeting
(the one that I mentioned before)
per ZOOM with individual beers and food — happy that almost everyone joined!
I set my expectations very low to avoid frustration and disappointment. This was a good starting point. Rather than to look at what was different
(that would really have been frustrating)
this year I started by looking at what was basically the same for me compared to a regular RSNA meeting.
Same: Great information available online … but a little complicated to find, scientific Presentations offered in different tracks, digital posters, Chicago Time for the presentations (well, it is a US meeting, but that did not fit the schedule of the many international guests that typically come to Chicago), Daily Keynotes and the Award Sessions.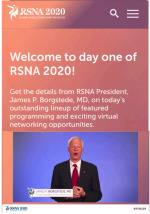 Different: Everything else! Digital does not work for me for RSNA, as my personal main intention is to go to RSNA to meet my old friends, meet new ones, walk the exhibition halls, chat and mingle, spend a max. 4 hours at the digital and real posters and maybe 6 hours listening to oral presentations — in total over the three full days of attendance!