By Michael Friebe
Wednesday afternoon! Would be on the plane back from Chicago … or at least on the way to the O'Hare airport … normally … and would have written my annual report in the lounge or plane and submitted to YOU by latest … right around now! And why change that just because it is VIRTUAL this year? … and just because of a a little Virus?
First time I went to RSNA was during my 5 year California engagement in 1989 aged 24. I was employed as MRI support and research engineer at DIASONICS Inc., one of the first companies that introduced a commercial MRI system
(0.35T supercon and a 0.064T open permanent!!)
. I am really thankful for this first job … I learned a tremendous amount and also fell in love
(in that order actually)
with
Health Innovation, Diagnostic Imaging Systems
(especially MRI, but lately more and more Ultrasound and Hybrid Systems that are also used for image guided procedures)
,
and the big RSNA show
. In 1992 I went back to Germany to start my first imaging company with an idea that I copied for use in Central Europe that was shown at the RSNA. After that I went to Chicago every year to attend that terrific show.

KA Imaging's Reveal 35C detector, currently available as an upgrade solution in the US and selected geographies, can now be sold in the European Union. The detector recently obtained the CE Mark. Contact us at sales@kaimaging.com to book a free demo.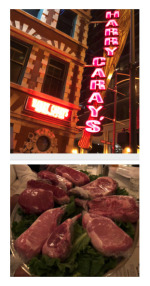 For me the show already starts on Saturday before boarding the plane. Many familiar faces and first new contacts on the trip to the US. In the last years I managed to streamline my trip leaving Saturday and returning to Germany late on Tuesday or with the early afternoon plane on Wednesday. I did not check in any luggage and had my routine down, left the airport with the Blue Line train, always stayed at the same hotel
(most important criteria for me — downtown location and decent size pool)
, and knew where to go to get an early coffee on Sunday morning on my way to board the conference bus. And, I looked forward to the events that I either organised myself or attended always at the same time and days. One of them was
(and hopefully will be again in 2021)
the M3 - group meeting at Harry Caray's Steakhouse on Sunday evening - more on that one later - the regular breakfast at the McCormick Hyatt to listen to the predictions of my friend Phil Jacobus from DOTMED, and two Dinner / After-Dinner events on Monday, as well as a Tuesday lunch at the Rotary Club. Sounds boring because it is so planned through? No, on the contrary! Something that I was really looking forward to and something that I really missed this year.