by
Lisa Chamoff
, Contributing Reporter | March 22, 2021
From the March 2021 issue of HealthCare Business News magazine
"Just because one has a proton center doesn't mean one should treat pediatric patients," Chang said.
Coordinating care
Building up a pediatric proton therapy program also takes a lot of close work with centers around the globe.

Carestream Health is a leading provider of quality X-ray systems and detectors that are designed to maximize diagnostic confidence, workflow and patient satisfaction. Follow the link above to see our complete portfolio of digital radiography solutions.

Chang noted that before the National Health Service (NHS) opened the first proton beam therapy center in Manchester, England, in 2018, half the pediatric patients in the U.K. needing proton therapy traveled to him for treatment.
"In order to build up that smooth referral process, it takes a lot of coordination," Chang said.
Dr. Torunn Yock, the director of pediatric radiation oncology at Massachusetts General Hospital, said that only 5 to 10% of the patient population comes from the hospital network, with most referrals coming from providers without access to a proton center, especially in New England and upstate New York.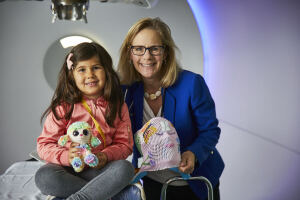 Yock said the outcomes of proton therapy are generally worth the effort for providers to refer patients for proton therapy and the team at Mass General has good communication practices in place.
"Many of our referrals come from pediatric oncologists and some come directly from radiation oncologists or surgeons," Yock said. "Some doctors are reticent to refer their patients out for proton therapy, as it is an unknown if they have not previously worked with the care team at a proton center before."
Yock suggests to the doctors who are reluctant to refer to identify a reputable center that treats a lot of pediatric patients, and then communicate with the team to ensure they can deliver high-quality care. The reduction in late side effects of treatment are very beneficial for a patient's future quality of life and worth the investment of the referral and travel in most cases for the family.
"We try very hard to communicate with the home team to make them comfortable with the treatment we deliver," Yock said. "After a patient has been referred to us for the first time, there are usually subsequent referrals, as the doctor then feels more comfortable entrusting the care of their patients to others."
Improving the process
Proton centers have also worked to streamline processes and help improve access to quality care.