by
Lisa Chamoff
, Contributing Reporter | June 28, 2021
From the June 2021 issue of HealthCare Business News magazine
New products in the PET and SPECT space are focused on speeding up scan times and keeping radiation dose low, while providing high-quality images for use in cancer staging and therapy response.
There's a continued interest in radiotracer research, with a spectrum ranging from smaller scanners and MR inserts to large, whole-body scanners like the one released by Siemens Healthineers earlier this year.
Here's a look the new products on the market and what's on the horizon.
Cubresa
Cubresa is launching its clinical product, the BrainPET, a PET insert designed for use in an MR scanner, enabling simultaneous PET/MRI imaging of the brain.
"We are in discussions with a number of notable research centers and are looking forward to finalizing our early customers this year," said Lisa Bako, director of marketing for Cubresa.
The BrainPET scanner may play an important role in the diagnosis, treatment, and management of diseases of the brain including Alzheimer's, epilepsy, brain cancer, and psychiatric disorders like addiction. The BrainPET is not yet FDA or Health Canada approved, and early customers will use the device for clinical research purposes.
In September 2020, Cubresa was awarded a contract by Innovative Solutions Canada for its recently launched NuPET Bio, the company's preclinical PET scanner that is lightweight, portable and designed for use in infectious disease research within high containment facilities. A system has been installed at the IWK Health Center in Halifax and will be used for preclinical research into SARS-CoV-2 and other infectious diseases.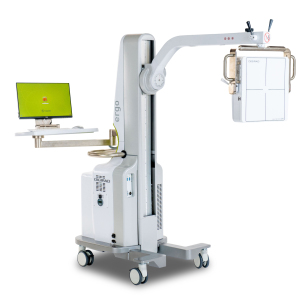 Digirad
Over the last year, Digirad has transitioned its Ergo, Cardius 2 XPO, Cardius 3 XPO and Cardius X-ACT+ scanners to the Windows 10 operating system and introduced "all in one" chassis designs for the Carius 2 XPO and Cardius 3 XPO.
Additionally, in January of this year, the company began offering a Boost upgrade package to allow customers to retrofit their portable general nuclear medicine Ergo Imaging System. The Boost package comes with a lithium-ion battery and a new, larger monitor, as well as a Cedars CSView processing package, 250-gigabyte solid state drive, wireless data transfer and connectivity and new exterior panels.