by
John R. Fischer
, Senior Reporter | June 30, 2021
A new magnet designed by Japanese researchers could someday dramatically reduce the footprint of proton therapy systems and make them less expensive.
B dot Medical, a startup focused on developing an ultra-compact proton therapy system, has designed a superconducting bending magnet that is capable of generating a high magnetic field. The system consists of a proprietary "non-rotating gantry" that is made possible by combining technology to bend the proton beam and technology for optimizing the magnetic field shape.
"Our system would be about half the size of conventional proton therapy systems. The height, in particular, is expected to be reduced to 4 meters from the previous 10 meters. In addition to being inexpensive, our system does not require the construction of a dedicated building, which leads to cost reductions when it is installed," Takuji Furukawa, president and CEO of B dot Medical, told HCB News.

For those who need to move fast and expand clinical capabilities -- and would love new equipment -- the uCT 550 Advance offers a new fully configured 80-slice CT in up to 2 weeks with routine maintenance and parts and Software Upgrades for Life™ included.

The proton beam bending technology is accelerated to more than 70% the speed of light, inside a superconducting magnet with a high magnetic field. The technology enables the proton beam to converge to a single point no matter where it enters the magnet.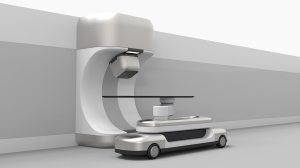 Undergoing an energization test, the magnet was cooled sufficiently and then energized to confirm a high magnetic field was generated.
The researchers next plan to perform a pattern operation test to quickly control the strong magnetic field generated by the superconducting magnet. They will then perform a proton beam test before applying for Pharmaceutical and Medical Device Act approval in Japan.
"We believe that by making our system smaller and less expensive, installing a proton therapy system will be easier and hospitals that have been using X-ray therapy will be able to provide proton therapy," said Furukawa. "This will allow more cancer patients to choose proton therapy, which is currently available only to a limited number of patients."
Earlier this month, researchers in Germany developed another enhancement for proton therapy in the form of a prototype system that
incorporates real-time MR imaging
for tracking tumors.
"Real-time magnetic resonance imaging has the unique ability to provide excellent soft-tissue contrast in addition to fast imaging that captures organ motion," Dr. Aswin Hoffmann, research group leader of experimental MR-integrated Proton Therapy, Institute of Radiooncology – OncoRay, told HCB News at the time. "Typical examples of cancers that could benefit are those of the liver, pancreas, oesophagus, rectum, kidney, adrenal and cervix."