by
John R. Fischer
, Senior Reporter | December 01, 2021
Konica Minolta Healthcare Americas demonstrated the capabilities of its new mKDR Xpress Mobile X-ray System and its AeroDR Carbon Flat Panel Detector this week at RSNA 2021.
The mKDR Xpress Mobile is the smallest and lightest portable X-ray system designed by Konica Minolta and has a slim design and collapsible column that allows it to be moved anywhere, including in tight spaces in the ICU, CCU or the OR. But its real advantage is its customizable mobile-specific user interface, which comes with a remote control; visible buttons at the front of the device; and front and back collimator controls with laser alignment, according to Guillermo Sander, marketing director for digital radiography at Konica Minolta Healthcare.
"The buttons are big. It's portable. It has all the functionality but rather than put it all on one screen, we put the important buttons up front, so it's easier to use. What we thought about was how do we make the workflow for the user easier, so it becomes a better patient experience overall," he told HCB News.

KA Imaging's Reveal 35C detector, currently available as an upgrade solution in the US and selected geographies, can now be sold in the European Union. The detector recently obtained the CE Mark. Contact us at sales@kaimaging.com to book a free demo.

Users of mKDR Xpress Mobile can assess images through the tube-mounted graphical user interface and use the image preview function to view scans quickly. The system also has onboard charging for two panels and front and back storage for them and consumables.
The solution is mainly designed for continuous monitoring of chest and abdomen scans but can be used in a variety of settings, including the ICU, critical care and neonatal units; and the ER. The addition of dynamic digital radiography (DDR) in 2022 will also allow it to be moved to patient bedsides, according to Sander. When your patient is too sick or fragile and it's not practical or safe to move them, you can take the X-ray to them with this technology."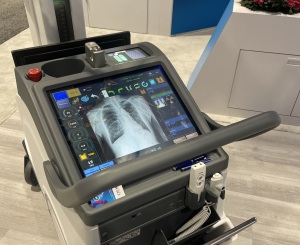 Also on display was Konica Minolta's new AeroDR Carbon Flat Panel detector. Designed for all general X-ray applications, the space-age carbon material of the detector is molded and more flexible and lighter than the traditional metal material used to make detectors. It also has been infused with antibacterial technology, which contributes to its lightness and enhances its capabilities. "You still have to clean your panels but having materials that are anti-bacterial just helps. It doesn't get in the way; it doesn't change the cost of the panel. Those little things just make a difference," said Sander.