by
Thomas Dworetzky
, Contributing Reporter | April 21, 2022
A Maryland man has broken the record for survival after an artificial double heart-valve replacement.
Operated on 31 years, 238 days ago at the University of Alabama (UAB) at Birmingham when he was just 13 years old, Seth Wharton, now 44, has made the most of the second chance the surgery gave him.
"People have said they cannot believe all I have been through by how healthy I look. People just can't believe it,"
the Maryland resident told Guinness
.
He had struggled with his heart ailment during the crucial time when he had the surgery. He'd gone through three open-heart surgeries, six cardiac catheterizations, five blood clots and and finally two valve replacements by age 13.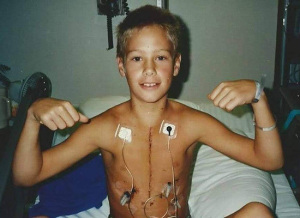 "To live this long after a double heart-valve replacement is a remarkable outcome for Mr. Wharton," said Dr. James Davies, director of the UAB Cardiovascular Institute and the Division of Cardiothoracic Surgery said in
a UAB story on Seth
. "Cases like Mr. Wharton's are the reason our cardiothoracic surgeons work to provide the best possible care to each of our patients. We are happy to hear that he is doing well."
The surgeon behind Wharton's dramatic health turnaround was Dr. Albert D. Pacifico, a former cardiothoracic surgeon at UAB, whose "surgical technique cut surgery times dramatically and increased patient safety, reduced hospital stays and shortened recovery periods," according to UAB. By the time he retired in 2006, Pacifico had done over 28,000 cardiovascular surgeries.
"Dr. Pacifico was a world-renowned surgeon who was known for his proficiency, technical skills and excellent outcomes in the most complex cardiac surgical procedures," Davies said. "Dr. Pacifico dedicated himself to the field of cardiothoracic surgery and devoted his career to studying and perfecting his surgical technique in order to provide exemplary care for each of his patients."
Within a year of his surgery, young Wharton earned a karate black belt and became a basketball player. In his later years he took part in weightlifting and running.
Wharton is now a husband, a father of four and a hospice chaplain at the University of Pittsburgh Medical Center of Western Maryland.
"I am just so thankful that God spared my life and for the role that UAB played in that," Wharton said. "I am living proof that you can have a full life after this procedure, and I hope people can find comfort in that."