Vanderbilt University Hospital to kick off $500 million expansion this summer
by
John R. Fischer
, Senior Reporter | August 01, 2022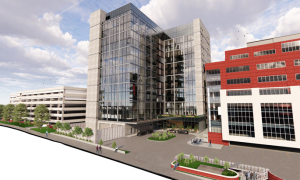 Vanderbilt University Medical Center will start work this summer on a new inpatient tower for Vanderbilt University Hospital that will cost at least $500 million to build.

The 15-level, 470,000-square-foot Link Building will be the hospital's largest expansion to date and will house approximately 180 inpatient beds, 10 operating rooms, radiology services, multiple specialty clinics, a spacious lobby and new administrative office space.

It will take approximately four and a half years to build, with the tower opening in 2027. The expansion will allow VUH to serve more of the growing population in Middle Tennessee. As the largest tertiary referral center in the region, VUH already runs at more than 90% capacity most of the year.

"Prior to 2020, our health system was already experiencing the need for additional capacity to care for critically ill adult patients. The unprecedented demand placed on our people and facilities during the pandemic underscored the strategic importance for this new facility," said Dr. Jeff Balser, president and chief executive officer for VUMC and dean of Vanderbilt University School of Medicine, in a statement.

The Link Building is the first major addition to VUH since 2009 when the Critical Care Tower opened. Bridges will connect it to several floors of Medical Center East, where approximately 44,000 square feet of operating room space will be added to the third floors.

The project will be completed in two phases, which includes the demolition of the Oxford House, an administrative office building on the same garage deck where the Link Building will be constructed. Parking expansion will also take place.

Low acuity patients are treated at VUH's adult and pediatric multispecialty outpatient clinics and ambulatory surgery centers in Middle Tennessee, Southern Kentucky and Northern Alabama, as well as community hospitals in Wilson, Bedford and Coffee Counties. More complex cases are transferred to its main location.

"Many of the specialty services we offer, such as trauma, burn, and solid organ transplantation, are only available through Vanderbilt University Hospital. This expansion will create sufficient capacity for us to meet the needs of these patients and many others in the most effective and efficient manner," said Dr. C. Wright Pinson, deputy chief executive officer and chief health system officer for VUMC.
You Must Be Logged In To Post A Comment
Registration is Free and Easy.
Enjoy the benefits of The World's Leading New & Used Medical Equipment Marketplace.
Register Now!