US healthcare lost over 300,000 care providers in 2021
by
John R. Fischer
, Senior Reporter | November 07, 2022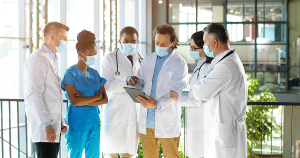 Retirement, burnout and pandemic-related stress pushed nearly 334,000 physicians, nurse practitioners, physician assistants and other clinicians to leave the workforce in 2021.

Among physicians, 117,000 called it quits, followed by 53,295 NPs and 22,704 PAs. Additionally, 22,000 physical therapists and 15,500 licensed clinical social workers left.

The greatest loss was internal medicine doctors, at 15,000, followed by 13,015 family practice physicians and 10,874 clinical psychologists, according to a report by commercial intelligence company Definitive Healthcare, titled, Addressing the healthcare staffing shortage.

"Like clinicians and registered nurses, providers in these three specialties frequently worked on the front lines during the pandemic, risking exposure and facing many of the same pressures and stressors as described earlier," wrote the authors.

Staffing shortages were highest in South Carolina, with almost 29% of hospitals experiencing critical levels. About 20% of providers in Georgia, Vermont, Delaware and Michigan said the same.

Shortages are only expected to become worse, as many providers near retirement age, with nearly 45% older than 55, according to the American Association of Medical Colleges. Additionally, over 40% of active physicians will turn 65 or older in the next decade, and the average age for a nurse is 57.

Hospitals are spending more to hire and retain workers, having invested about $97.3 million nationwide in 2020 on employee and physician salaries, compared to $82.7 million in 2016, said the October 2021 Medicare Cost Report.

Per-patient labor expenses also increased from $4,009 in 2019 to $5,494 in 2022, according to a Kaufman Hall report. Hospitals with more than 250 beds spent nearly $11 million, on average, for contract labor in 2020, reported Definitive Healthcare.

Rural hospitals are especially struggling, unable to offer the same salaries, benefits and bonuses as their urban counterparts. "Staffing shortages have pushed many small hospitals in rural areas to refuse the admittance of patients, close inpatient wards and limit or suspend outpatient services," wrote the authors.

The authors used data from more than two million physicians and nurses, 9,200 hospitals and IDNs, and 128,000 physician groups, for their study.

They recommend that providers invest in telehealth to decrease in-person visits and alleviate staffing shortages, as well as operating costs and lower readmission rates.

They also suggest incorporating more mental and behavioral health into education and training, and raising Medicare caps on availability and capacity of Graduate Medical Education programs.

"Raising the cap can help replenish the depleted healthcare workforce and offer providers the additional training they need to be better prepared to respond to the next pandemic," they wrote.
You Must Be Logged In To Post A Comment
Registration is Free and Easy.
Enjoy the benefits of The World's Leading New & Used Medical Equipment Marketplace.
Register Now!