Interventional radiologist allegedly performed over 500 unnecessary invasive peripheral artery procedures
by
John R. Fischer
, Senior Reporter | May 05, 2023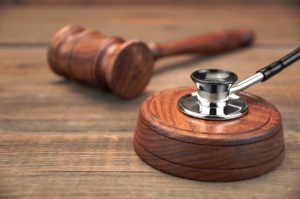 The U.S. government is seeking damages from an interventional radiologist in Pennsylvania, alleging that he defrauded Medicare and the Federal Employees Health Benefits Program by billing for over 500 claims, worth at least $6.5 million together, for medically unnecessary invasive peripheral artery procedures.

From at least January 2016 to December 2019, Dr. James McGuckin, of Radnor, performed nonessential angioplasties, atherectomies, stent placements, and indiscriminate intravenous ultrasound procedures, all of which involve inserting devices into and through the arteries of patients' legs, putting them at risk for future and preventable medical interventions, as well as potential leg amputations.

Dr. Aaron Shiloh, an interventional radiologist who worked for and with McGuckin, filed the suit, United States of America ex rel. Aaron Shiloh, M.D., FSIR v. Philadelphia Vascular Institute and James McGuckin, M.D., Case No. 18-5458 (E.D. Pa.)., under the whistleblowers provision of the False Claims Act, which permits private parties to sue on behalf of the U.S. government in exchange for a portion of any damages recovered, and for the government to intervene.

"Performing medically unnecessary procedures puts patients at risk and contributes to the soaring costs of healthcare, especially the invasive vascular procedures alleged in this case," said Jacqueline Romero, U.S. Attorney for the Eastern District of Pennsylvania, in a statement.

McGuckin's affiliated practices and management entities were also named in the suit, including Peripheral Vascular Institute, LLC of Philadelphia; Main Line Vascular Institute LLC, of King of Prussia; Lehigh Valley Vascular Institute, LLC, of Bethlehem; PA Vascular Institute, LLC, of East Stroudsburg; Philadelphia Vascular Institute, LLC; and Pennsylvania Vascular Institute, P.C.

McGuckin and his practices have been hit with prior sanctions and lawsuits for unnecessary procedures. In 2015, Pennsylvania's, Washington state's and other state medical boards and Medicaid programs sanctioned him for performing experimental angioplasties, stenting and other vascular procedures on hundreds of patients for multiple sclerosis.

In 2018, McGuckin, as manager and owner of Vascular Access Centers, L.P. (VAC), settled a multimillion-dollar, False Claims lawsuit with parties in New York and Louisiana, admitting to regularly scheduling, performing, and billing for vascular procedures "without any documented evidence that they [patients] exhibited a need for therapies," according to that suit.

In 2019, VAC filed for bankruptcy because of McGuckin's conduct, only for the judge to say the request was made in bad faith and that McGuckin's misconduct in relation to it, including false statements he made to the court on behalf of Philadelphia Vascular Institute, LLC, warranted sanctions. The judge said McGuckin was "untrustworthy" and ordered that he not be able to make any decisions or take actions on behalf of VAC in regard to its bankruptcy filing.

All claims in the current case are allegations only for the time being.
You Must Be Logged In To Post A Comment
Registration is Free and Easy.
Enjoy the benefits of The World's Leading New & Used Medical Equipment Marketplace.
Register Now!