Rate of NPPs ordering imaging in urban areas outpacing rural areas
by
John R. Fischer
, Senior Reporter | July 18, 2023
Business Affairs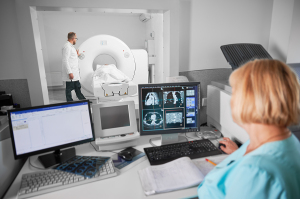 Providers and medical groups have long debated whether non-physician practitioners should be allowed to perform tasks traditionally overseen by physicians, with critics saying that it endangers patients because NPPs do have the same training to perform these jobs accurately and safely.

But as several states have passed laws loosening these restrictions, NPPs have filled gaps left by the shortage of physicians in primary care and emergency departments, especially in rural areas, which face the biggest recruitment challenges. They have also been associated with increased preventive care, quality, reduced ED visits, lower costs, and increased self-reported mental health.

Researchers at the Harvey L. Neiman Health Policy Institute decided to investigate if the same was true in radiology, and where geographically the growth of these NPPs was highest. While not surprised to see higher rates of NPPs in rural and small-town settings (3.9%) interpreting imaging compared to their urban counterparts (2.8%), they were intrigued that growth rates for this practice in urban areas (31%) were higher than in micropolitan areas (19%), and that in rural and small-town areas, growth was not statistically significant.

NPPs interpreting imaging grew 27% over five years, from 2.6% in 2016 to 3.3% in 2020. Casey Pelzl, senior economics and health services analyst with the Harvey L. Neiman Health Policy Institute, says higher growth in metropolitan locations could be due to the greater availability of jobs and physician oversight there. Additionally, larger radiology practices, which are more likely to employ NPPs, tend to be situated in urban areas. The study may also indicate that larger, urban practices may use NPPs in clinical roles that do not require trained, certified radiologists.

"Our findings show that NPPs are increasing their role in imaging interpretation at a greater rate in more urban areas, suggesting that the primary driver of increasing NPP scope of practice is not to address gaps in access to care," she told HCB News.

On its website, the American College of Radiology says that NPPs "can serve essential roles in radiology practices," but lack the education and training for "the intensive and specialized training and experience of a radiologist" to interpret images.

For their study, Pelzl and her colleagues looked at over 110 million noninvasive imaging claims from the Optum Clinformatics Datamart, with more than three million interpreted by NPPs, mostly radiography/fluoroscopy scans.

States with less restrictive state-of-practice laws saw the greatest growth in NPP imaging. The study did not evaluate if growth in NPPs interpreting images in radiology affected quality and patient outcomes. While lacking data to complete such a study, Pelzl encourages anyone who does to pursue this line of inquiry.

The findings are in line with another Harvey L. Neiman Health Policy Institute study, which showed NPPs in radiology-only practices grew 18% between 2017 and 2019, and were up 10% in urban areas, 5% in rural areas.

The current study was published in Current Problems in Diagnostic Radiology.
You Must Be Logged In To Post A Comment
Registration is Free and Easy.
Enjoy the benefits of The World's Leading New & Used Medical Equipment Marketplace.
Register Now!