by
Robert Garment
, Executive Editor | May 13, 2009
Health Connect Partners' inaugural 2009 Spring Radiology & Imaging Conference was a big hit with more than 115 Directors of Radiology, leading GPOs, and hundreds of ISO vendor representatives attending.
The event is an educational and networking opportunity for the hospital Directors of Radiology and the attending companies. The packed agenda includes networking events, motivational and industry expert speakers, and the reverse trade show.
The Conference started out with a cocktail reception, followed by an evening of partying at the Hospitality Suites hosted by a number of sponsors. The next morning, Roger Crawford, a motivational speaker born with a number of physical disabilities, gave a compelling keynote speech about overcoming life's obstacles. Mark Katz, Corporate Director of Beth Israel Medical Center in New York, called the speech "refreshing and inspirational."
One of the major draws of the HCP Conference is the reverse trade show component. For approximately two hours each day, the Radiology Directors "man the booths," and the vendors take the role of attendees, going to each table and pitching their service or product.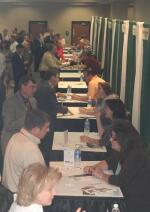 "At most trade shows, the potential customers are moving targets," observed David Blumenthal, DOTmed's Sales Director, "but here they are easily accessible. They know the vendors are going to give them a sales pitch, and the Radiology Directors actually come here because of that."
Jeff Weiss, President Atlantis Worldwide, LLC, added that a reverse trade show environment was the best way to meet peers, and make new business deals. Indeed, Joe Price, Administrative Director of Radiology at Grady Health System in Atlanta, GA says, "I like coming here because I learn about stuff I didn't know. I have a stack of cards to take back with me."
Ralph Martinez, Director of Imaging of Valley Baptist Medical Center of Harlingen, TX said that he came to the Conference out of necessity. "My hospital is way down south in Texas, and I don't get a lot salespeople passing my way. But here, there are all these companies with new technology and products that I want to know about, and I can really learn a lot in a short amount of time. That's really worth it to me."
Tom Spees, Director, US Sales for the Dunlee Division of Philips Healthcare praised the quality of the audience at the HCP Conference. "At a big show like the RSNA, there are all different types of professionals, and finding the prospects you want most can be time-consuming and hit and miss. Here, the prospects are all Directors of Radiology, which is a key target market for us, so this is just great."
The Fall Conference in Tampa, FL will host an entirely different group of Directors of Radiology. Health Connect Partners Conference offers vendors and Directors of Radiology a rare opportunity to network in a relaxed and social atmosphere.
See you in Tampa September 23-25, 2009.