New wearable "e-patch" cuts health monitoring costs, improves quality
by
John W. Mitchell
, Senior Correspondent | September 30, 2015
Business Affairs
Cardiology
Health IT
Population Health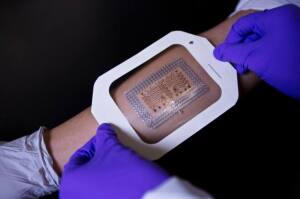 A disposable health monitoring patch that has been shown to work as well as traditional monitoring devices in tests, and may soon be developed to link to smart mobile devices, has been developed by researchers at the University of Austin.

"We started on this project in 2011 because we were not satisfied with the state-of-the-art for mobile monitoring devices, which were characterized by chips on tape and bricks on straps," Nanshu Lu, Ph.D., lead researcher and assistant professor in the Cockrell School of Engineering, told HCB News.

In addition to being bulky or fragile, existing options also generate motion artifacts that interfere with accurate readings, are neither wearable long term nor user friendly, and carry high costs, she said.

Lu said the new "e-patch" engineered by her team can be worn for several days and can even work in the shower. While the design is best used for stationary patients, it operates with minimal motion artifacts, compared to "gold standard" monitoring devices.

According to Lu, the device affixes to the skin much like a temporary tattoo, and can be configured to accurately monitor up to eight vital signs, including heart rate, brain waves, muscle signals and skin hydration.

"Our design affords long-term wearability – up to a week – and can then be disposed of. We've made devices mostly using automated production methods for about $10 apiece," she explained. Comparatively, Lu said other systems can cost up to several hundred dollars apiece.

The team just published a paper on their patent-pending research work in Advanced Materials. The research has so far been funded by federal grants from the National Science Foundation and Office of Naval Research. Lu is seeking private investments to bring the e-patch to market.

"This is a red hot area of research and there is a lot of competition," Lu acknowledged.

Her team is currently working on developing the communication component of the device so that it will send results to smart devices, such as a phone or tablet. They have worked with a medical doctor on the neurological monitoring function and plan to add other medical experts as the project progresses. The device will also need FDA approval.
You Must Be Logged In To Post A Comment
Registration is Free and Easy.
Enjoy the benefits of The World's Leading New & Used Medical Equipment Marketplace.
Register Now!