'Cognitive' UK hospital will use IBM's Watson to improve the pediatric patient experience
by
John W. Mitchell
, Senior Correspondent | May 16, 2016
Business Affairs
European News
Health IT
Pediatrics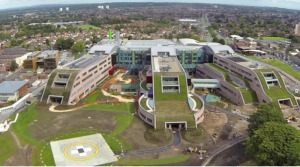 The first thing pediatric surgeon Iain Hennessey will share about the motivation to create a big data initiative to better serve kids at the Alder Hey Children's Hospital's new $434 million medical campus is that a happy patient makes everyone's life easier.

"In working with children, if they don't like you, kids will make your life an absolute misery," Hennessy, Director of Innovation and a pediatric surgeon told HCB News. "It's in our best interest get off to a better start with these patients."

Hennessey said that happier patients get well quicker, use less pain medication, sit still better for imaging tests and in general achieve better outcomes. In partnering with the nearby Science and Technology Facilities Council's Hartree Centre and IBM Watson, the project – which just commenced – will gather voluntary feedback from its young patients to enhance Alder Hey's famous holistic approach to health care.

The initiative utilizes IBM's Watson, the question-answering computer that is able to converse with humans in everyday language through machine learning — but there is a definite learning curve.

"Right now we have patients interacting with Watson by secure voice activation and text to teach the super computer a child's language," explained Hennessey. "It's slow going due to the English accents and the fact that kids act like kids. Watson is being asked a lot of rude questions," he said with a laugh.

The goal of the project is ultimately to help the National Health Service to better manage costs. They also hope to improve the rate of patient feedback, which Hennessey said is less than one percent.

In addition, the leadership team at Alder Hey believes they can increase market share for the hospital by improving the cognitive ability of their services. This in turn, should help lower the number of patient no-shows – called DNAs, for Did Not Attend in the English National Health Service, which does not charge for any services.

"We just opened in October and we basically have a big building where the nurses and doctors do all the work," said Hennessey. "We want our hospital to have a brain and a heart – to be cognitive in anticipating what our patients want and need. We want the hospital to do a lot of our thinking for us."

According to Alder Hey, there are many possible applications from big-data, cognitive learning in addition to improving the clinical experience for patients.

Cognitive computing techniques can improve a wide range of functions, from easier pre-admission, to improved symptom management to better meeting research parameters. But most of all, information gathered through Watson will help the hospital anticipate and respond to questions from patients and their families before they arrive at the hospital.

To this end, Hennessey cited the case of an eight-year-old boy that needed a minor surgical procedure on his foreskin. The doctor said that he could hardly get the boy in the exam room, much less do an examination.

"When we were finally done the boy said, 'So, you're not going to cut off my wedgie?'" recalled Hennessey, laughing again. "His older brother had told him that's what I was going to do. If I had known about his fear beforehand - which is something Watson can help us with now – things would have gone a lot easier for both of us."

The cognitive initiative is being supported with a $168 million government grant. The project is also part of a 2015 collaborative with IBM to help U.K. industry achieve competitive advantages from the latest cognitive computing technologies.
You Must Be Logged In To Post A Comment
Registration is Free and Easy.
Enjoy the benefits of The World's Leading New & Used Medical Equipment Marketplace.
Register Now!