by
Lauren Dubinsky
, Senior Reporter | May 16, 2017
Masimo and Midmark Corporation announced a partnership on Monday to improve the acquisition of vital sign data.
The Masimo SET pulse oximetry technology is now available as an option on the new Midmark IQvitals Zone monitoring device.
"We are confident that Masimo's proven portfolio of accurate and timely measurements, in combination with Midmark's innovative solutions, will help physicians and caregivers deliver quality care and enhance clinical work flow," Rick Fishel, president of worldwide OEM business and strategic development for Masimo, said in a statement.

Universal Medical provides the very best new & refurbished gamma cameras, quality parts & repair services. We also rebuild & replace camera detectors, move camera systems across town or across the country. Call us at 888-239-3510

Midmark introduced the IQvitals Zone device on April 17. The company claims that it's the first diagnostic device with Bluetooth low-energy technology that can connect it to a tablet or laptop while the vitals are being captured.
IQvitals Zone automatically connects to the clinicians' mobile device when it's placed near it or on the multi-use work surface. The clinicians can then take patient vitals, review results and import the data directly from their device to the EHR.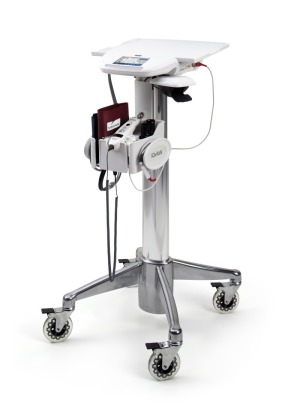 By itself, IQvitals Zone captures five vital signs including blood pressure, blood oxygen level and pulse, temperature and weight. In combination with the Masimo SET technology, it can also capture oxygen saturation, pulse rate and perfusion index in real time.
Masimo also made a deal
with SunTech Medical in June 2016
to integrate its SET pulse oximetry technology with the CT40 spot-check vital signs device. SunTech entered the partnership because it believes "Masimo SET pulse oximetry is the benchmark for clinical performance."
A study published in the
Journal of Clinical Anesthesia
in 2012 found that the Masimo Radical with Masimo SET pulse oximetry had higher oxygen saturation specificity and sensitivity and lower failure rates during conditions involving motion and low perfusion than other pulse oximeters.
Masimo SET is used on approximately 100 million patients in hospitals and other health care facilities around the world, including 17 of the top 20 hospitals listed in the most recent U.S. News and World Report Best Hospitals Honor Roll.