From the July 2017 issue of HealthCare Business News magazine
Ultrasound product manufacturers are constantly working to improve the offerings available in the marketplace. The products appearing on the following pages represent some of the best innovations available. Look for the companies in this space to continue rolling out enhancements that will improve patient experience and outcomes.
Alpinion Medical
E-Cube 15
E-CUBE 15 delivers speed, throughput and accuracy for cardiology, vascular, general imaging and OB/GYN. E-CUBE 15 seamlessly integrates ALPINION proprietary imaging technologies, the world's first single crystal volume transducers and intuitive application software. ALPINION's unique FleXcan Architecture, the software-based imaging platform, guarantees uniform image quality and performance, and easy upgrade to maintain the system level to the latest one.
Alpinion Medical
E-Cube 9 DIAMOND
The unique imaging platform and proprietary acoustic technology of the E-CUBE 9 DIAMOND delivers uniform image quality and crystal clear image performance for clinicians. E-CUBE 9 DIAMOND offers premium features such as Live HQ 4D Imaging, CUBE Strain, Needle Vision Plus and Full Speckle Reduction for OB/GYN, Cardiology and General Imaging.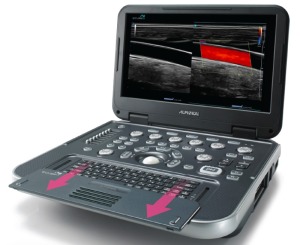 Alpinion Medical
E-Cube i7
E-Cube i7 delivers the best image quality and portability for cardiology, vascular, MSK and general imaging. The compact i7 is versatile, featuring application-specific imaging technology with advanced transducers. Offering a powerful and stable cart-based system architecture and breakthrough design with sliding keyboard cover, E-CUBE i7 provides ease of use and workflow efficiency from the bedside to the procedure room.