Toshiba Medical brand shines at RSNA for final time, prepares to join Canon
by
John W. Mitchell
, Senior Correspondent | November 29, 2017
Business Affairs
RSNA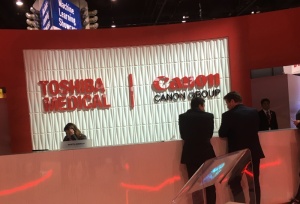 CHICAGO — In preparation for their full merger, Toshiba and Canon displayed their new imaging technologies in booths side-by-side at the 2017 RSNA underway in Chicago this week.

The two will completely merge under the Canon brand on January 4, according to sources at both companies. Canon acquired the medical division of Toshiba in a $5.9 billion deal announced in March of 2016.

In testimony to Canon's reasons for acquiring the company, Toshiba rolled out a range of groundbreaking imaging technology.

Paulo Ucio, senior manager, Market Development, Ultrasound Division told HCB News that the Apilo i800 CT scanner for the first time allows an early diagnosis of liver disease. According to Ucio, currently 34 percent of liver disease - which does not generate symptoms in its early stage - will not show on an ultrasound scan until it is at an advanced stage.

"Early liver disease assessment will have a great impact on health care," he said. "Our new premium transducers allow for better attenuation to differentiate between muscle, blood and fatty tissue to spot liver disease sooner with a color map."

Toshiba has added Attenuation Imaging (ATI) and Shear Wave Dispersion (SWD) imaging to its i800 model, two exclusive ultrasound features that allow physicians to visualize and quantify the degree of tissue attenuation and viscosity for a more comprehensive evaluation of the liver. It also introduced the entry-level i600 series (501k clearance pending).

On the CT front, Toshiba introduced its Aquilion Precision scanners (pending FDA clearance), with several industry-first features to achieve earlier detection of disease and tumors, according to Tim Nicholson, senior manager, market development, CT.

"Aquilion provides 30 percent less dose and can scan anatomy as small as 150 microns – twice the industry CT resolution standard," he told HCB News. "We're waiting on FDA approval, but we've already had seven installed units in Japan and one in Europe."

The new Toshiba CT also offers thinner detector channels (as small as .25 mm thick), the industry's smallest Focal Spot Tube, and can generate 160 unique slices per rotation, according to Nicholson. The company also said its Aquilion ONE GENESIS edition for hospital ED use can find early signs of stroke sooner.

According to Jon Furuyama, Ph.D., senior manager, market development, MR, Toshiba's Vantage Galan 3T MRI offers improved capabilities to help oncologists map data to PET/CT images to prioritize treatment and improve therapy plans.

"This unit increases brain signal-to-noise ratio by 30 percent to produce a cleaner image more quickly, which reduces patient time in the scanner," he told HCB News. "It produces really pretty brain scans."

On the Canon side, the company concentrated on a core improvement, key to imaging technicians: making its CXDI radiographic detectors lighter and easier to handle. Mark Anderson, BSRT, RT product line advisor told HCB News.

"We've shaved two pounds off the weight and added grooves in the back to make it easier to handle," he said.

The new carbon fiber detectors are offered in three sizes.

Canon also ungraded its RadPRO 40kW Flex Plus Digital X-Ray System to include two batteries to charge at the same time to provide a backup power source. And image stitching – up to four images at a time – comes standard.
You Must Be Logged In To Post A Comment
Registration is Free and Easy.
Enjoy the benefits of The World's Leading New & Used Medical Equipment Marketplace.
Register Now!