by
Gus Iversen
, Editor in Chief | September 10, 2018
From the September 2018 issue of HealthCare Business News magazine
The imaging studies performed to date have included the prostate and bilateral hip imaging, target anatomies for which we have experience at 7 T. While very little time is available for imaging, and protocol optimization is only possible in phantoms, we have been able to obtain high quality images of both targets.

For those who need to move fast and expand clinical capabilities -- and would love new equipment -- the uCT 550 Advance offers a new fully configured 80-slice CT in up to 2 weeks with routine maintenance and parts and Software Upgrades for Life™ included.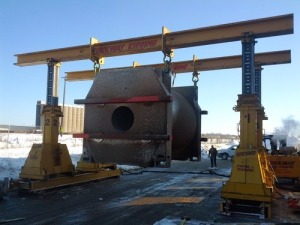 The RF coil and RF shimming methods used to manage the transmit fields worked especially well and allowed for us to obtain high-quality gradient echo images in all cases while fat suppression was feasible within nearly the entire field of view due to the increased chemical shift dispersion at 10.5T, despite the increased B0 inhomogeneities. For prostate imaging, we were able to obtain multi-slice T2-weighted images using a fast spin echo imaging approach. For the musculoskeletal applications, we obtained high resolution 0.7 mm isotropic versions of standard 3D acquisitions, although the optimization of parameters to obtain the desired contrasts require further investigation.
HCB News: Did special RF coils and gradients need to be developed for the system? Are those components continuing to be developed in order to maximize the scanner's capabilities?
For the gradients we are utilizing a high-performance but standard clinical body gradient (Siemens, SC 72). There are also higher-performance commercial head gradients available (AC84) for the system, but in order to further increase the scanner's maximal spatial and temporal resolution beyond the capabilities of the AC84 head gradient we are developing a novel head gradient insert in collaboration with Stanford University as part of an NIH research grant.
For all our imaging applications we develop special UHF RF coils operating at 447 MHz for protons at 10.5 T. Regarding RF coils, the path to maximize the scanner capabilities will be by extending the number of receiver channels to 128 and the number of independent transmitters to 32.