by
John W. Mitchell
, Senior Correspondent | April 29, 2019
From the April 2019 issue of HealthCare Business News magazine
You don't have to dig very deep in the medical literature to find studies showing that patients frequently ignore follow-up imaging recommendations.
A 2018 study published in the Journal of the American College of Radiology, for example, concluded that "follow-up imaging adherence rates are inherently low and vary by modality," and determined the overall follow-up imaging compliance rate was 58 percent. Among specific modalities, mammography posted the highest follow-up rate at 69 percent, followed by MR at 67 percent.
Mobile imaging has evolved as part of the solution to such patient noncompliance. A mobile platform allows providers to expand their patient outreach immediately and seamlessly according to Joe Shafe, vice president of sales at Assured Imaging. The company operates what it calls Women's Wellness Coaches; mobile 3D mammography, bone DEXA scanning, and ultrasound services in seven western states. Assured also builds and sells, and rents or leases imaging coaches throughout the country and the world.
Also, in deploying a mobile option, Shafe said Assured could set up at a clinic site to see patients as they arrive. Patients don't have to take additional time off work to return for a screening, a real boon to compliance. Assured can also work directly with major health plans to arrange payment, making mobile use easier for a client.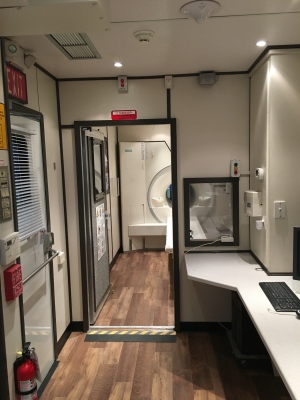 Meeting unique needs of imaging providers
Mobile imaging solutions are not just for mammography. Used MR trailers are very much in demand, reports Larry Brewer, business development manager for Holland Specialty Vehicles. Founded in 1935, the company was founded to support the railroad industry and only entered the medical imaging market three years ago, where it has already met some unique challenges.
"We had a project where we were able to take on a more than 25-year-old Calumet Coach built GE 1.0 T MR trailer and upgrade it to meet the requirements of a GE 1.5 T 11X MR system. This was a side-load design so we needed to get creative, so the 1.5 T magnet would perform to GE spec," said Brewer. "That unit has been scanning for over a year with no issues."