by
John R. Fischer
, Senior Reporter | October 28, 2019
From the October 2019 issue of HealthCare Business News magazine
ECRI's Launders stressed that providers should train staff not just in how to use detectors but to understand their capabilities and limitations, and how their own actions can help enhance the safety provided by the detector. That means periodically testing devices to ensure they are working correctly; and having patients change out of street clothes and into gowns before heading toward the magnet room.
They should also carefully question a patient's answers to prescreening process questions, he added. For instance, if a patient is asked if they have an implant of any kind and they respond that they are not sure or know they have but can't identify where, staff members should not let them enter the MR room until they have a definite answer.

For those who need to move fast and expand clinical capabilities -- and would love new equipment -- the uCT 550 Advance offers a new fully configured 80-slice CT in up to 2 weeks with routine maintenance and parts and Software Upgrades for Life™ included.

Another important factor to consider is the number of alarms a detector carries, according to Tobias Gilk, founder of Gilk Radiology Consultants and a safety consultant for Metrasens. Having too many can contribute to a state of fatigue and immunity to the onset of alarms among staff members.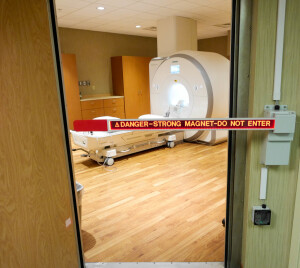 "To the degree that we can reduce these spurious alarms and make it so the detector goes off as infrequently as possible increases the psychological impact of when the alarm does go off," he said. "It becomes a more meaningful event in which we can double check the person or people for whom the alarm went off."
Joe Barwick and Steve Blacker, founders of MR safety company Aegys, said that ferromagnetic detectors should be viewed as information gathering tools that assist in decision-making for screening. "They have been designed to alarm on anomalies detected in proximity to the detectors that require conscientious review and follow-up. Additionally, they should be utilized or placed in areas that allow for proper reaction in advance of the entrance to the MR room."
Choosing a detector for an MR environment requires an understanding of its capabilities and limits, and for the provider to communicate their expectations with the vendor.
"If a facility says, 'We don't want the detector to alarm on underwires,' you have to recognize you probably also mean you don't want it to alarm on cell phones, laryngoscope blades and possibly stethoscopes," said Gilk. "They've created an expectation for themselves that today simply can't be met by the technology. Something is going to give, so it's important to be clear with ferromagnetic detection vendors what your expectations are."