by
Lisa Chamoff
, Contributing Reporter | October 11, 2019
From the October 2019 issue of HealthCare Business News magazine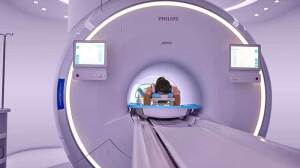 Philips
Philips released two new systems in the last year. The Ingenia Ambition 1.5T, which debuted at last year's annual RSNA meeting, uses the company's BlueSeal fully-sealed magnet, which requires less than half a percent of the amount of liquid helium used in conventional systems.
"We consider this the next generation of magnets that brings the industry to a new era of helium-free MR operations," said Simon Krijnen, director of product management for MRI Systems at Philips.

For those who need to move fast and expand clinical capabilities -- and would love new equipment -- the uCT 550 Advance offers a new fully configured 80-slice CT in up to 2 weeks with routine maintenance and parts and Software Upgrades for Life™ included.

The company also released Ingenia Elition 3.0T, which Krijnen said "answers the need for high diagnostic confidence ."
The scanner has a newly-designed gradient architecture, with thicker coils, and a better cooling capacity, to provide higher power and high fidelity at the same time. This results in increased resolution, high signal-to-noise ratio and faster scans.
On the software side, Philips introduced Compressed SENSE, an application that reduces scan times by up to 50 percent by compressing data while retaining information.
MR is still perceived as a slow modality," said Gwen Herigault, the director of global clinical programs for MRI at Philips. "We see that the pressure to lower cost and increase patient volume is increasing. With Compressed SENSE, 88 percent of the routine scans done in the hospital can be accelerated. … Some customers have used it to increase the number of patients per day, or spend more time with patients to improve their experience. Some have used it to reduce overtime for staff."
Compressed SENSE has been FDA approved since the beginning of 2018 and the company has brought it to market on the Ambition and Elition in the last 12 months.
ScanMed
Through its subsidiary BotImage, the company has released a software called ProstatID that uses AI to assist radiologists in prostate cancer detection through MR.
The software can work on any platform, with or without ScanMed's PROCURE prostate coil, said Randy Jones, the chief executive officer of ScanMed and BotImage.
The software's deep learning algorithm has been trained on MR images of patients that have been clinically validated as suspicious or cancer free, with a Gleason score.
"It's either going to validate what the radiologist expected or not," Jones said. "It is not a perfect science, so that's why the AI program was so important."