by
Lisa Chamoff
, Contributing Reporter | October 11, 2019
From the October 2019 issue of HealthCare Business News magazine
ProstatID accepts the common DICOM image set from the MR scanner, then runs the program, analyzes the data set and creates a colorized overlay that indicates the probability of cancer based on color scheme.
"You can see the measurable disparity between the radiologist's report and ProstatID," Jones said.

For those who need to move fast and expand clinical capabilities -- and would love new equipment -- the uCT 550 Advance offers a new fully configured 80-slice CT in up to 2 weeks with routine maintenance and parts and Software Upgrades for Life™ included.

The company has trained software on more than 1,000 patient data sets and is now testing it on real patient data and comparing the results. It is close to applying for clearance to the FDA.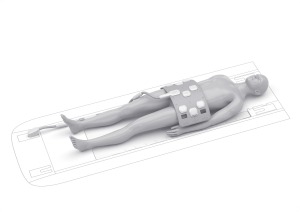 Siemens Healthineers
At last year's RSNA, Siemens Healthineers introduced the MAGNETOM Altea, a wide-bore 1.5T scanner that features both the company's BioMatrix Technology, which adapts to patients' anatomical differences, Tim 4G coil architecture and Dot (Day Optimizing Throughput) designed to reduce variability resulting from unique patient challenges, exam complexity and varying staff experience.
The 70-centimeter system, also utilizes the company's Turbo Suite applications, which speed up routine exams by up to 50 percent without compromising image quality.
The BioMatrix Technology, already available on the MAGNETOM Vida and Sola, gives the scanner the ability to adapt to the patient and correct for motion, allowing for free breathing exams for patients who can't hold their breath for long periods of time, for example, said Chris Farischon, senior magnetic resonance product manager at Siemens Healthineers North America.
The scanner also comes with the Select&GO Interface, which uses AI based on human body models to remove the need for anatomical landmarking, enabling the patient to be positioned faster and speeding up exams.
"When performing a knee scan, the technologist simply presses 'Knee,' on the Select&GO console and the patient's anatomy (knee) will advance into the correct position in the bore," Farischon said. "The system knows, based on that patient's demographics and the coil connected, what kind of exam is being performed and where the patient should be positioned. This saves valuable setup time. Before, the technologist, had to position the patient in the coil and manually position the patient for isocenter using the laser light."