by
John R. Fischer
, Senior Reporter | November 15, 2019
A teenager with irreparably damaged lungs from vaping has undergone a double lung transplant at Henry Ford Health System in Detroit.
The 17-year-old faces a long, intense recovery process following his procedure. He is the first patient in the U.S. to undergo a double transplant for lung damage incurred through the popular practice, which medical experts say has ushered in a new epidemic known as EVALI (e-cigarette, or vaping, product use associated lung injury) that has cost a reported 42 people their lives.
"Within a very short period of time, our lives have been forever changed. He has gone from the typical life of a perfectly healthy 16-year old athlete — attending high school, hanging out with friends, sailing and playing video games — to waking up intubated and with two new lungs, facing a long and painful recovery process as he struggles to regain his strength and mobility, which has been severely impacted," said the man's family in a statement.

SRI is a leading Developer, Manufacturer & Supplier of Innovative Portable Imaging Equipment. We offer Lightweight, Agile, Easy to Maneuver Portable X-Ray Systems ideal for maneuvering in tight spaces. Call us at 631-244-8200

Declared an epidemic as of last spring, more than 2,000 cases of EVALI have been reported, according to the Centers for Disease Control and Prevention (CDC). The activity is especially popular among youth in the U.S. In a recent survey of more than 10,000 students, for instance, 28 percent and 11 percent of high school and middle school students, respectively, self-reported an ongoing use of e-cigarettes, particularly flavored varieties.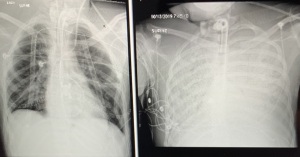 Signs of the condition were first noticed in the unidentified man in early September when he was admitted to St. John Hospital for what initially was perceived as a case of pneumonia. He was intubated a few days later due to a deterioration in his ability to breathe normally before being transferred to Children's Hospital of Michigan. There, he was hooked up to an Extracorporeal membrane oxygenation (ECMO) device to provide partial support to his lung and keep him alive.
Following further deterioration, the patient was recommended as a candidate for Henry Ford's Lung Transplant Program. Transferred to Henry Ford at the beginning of October, the damage the patient incurred was deemed so severe that he was placed at the top of the transplant waiting list and underwent a successful procedure on October 15.