By Imogen Fitt
In the wake of the COVID-19 pandemic, markets across healthcare have changed dramatically. In particular, the general radiography and fluoroscopy market has experienced a significant shift, with chest X-ray examinations identified as a key tool used to diagnose and track the progression of late stage COVID-19.
The need for access to X-ray imaging within intensive care departments has skyrocketed, creating unprecedented demand for mobile imaging systems, which are easy to clean and transport between wards. For example, OEM manufacturer Micro-X published an increase in revenue of 375% compared to Q12019, with many other leading vendors citing substantial increases in orders.

KA Imaging's Reveal 35C detector, currently available as an upgrade solution in the US and selected geographies, can now be sold in the European Union. The detector recently obtained the CE Mark. Contact us at sales@kaimaging.com to book a free demo.

In contrast, sales of fluoroscopy and fixed X-ray radiography rooms have dropped, as budgets are sequestered to focus on pandemic response. Site access restrictions have prevented or delayed pre-scheduled installations.
Such market volatility has created many challenges for the X-ray manufacturing industry, and whilst predicting the coming months and years is very difficult, many are still asking: what happens next?
A sharp return to normality
At Signify Research we have taken the view that the market will experience a sharp "V" shaped recovery in most regions, beginning in the second half of 2020. As lockdown measures are lifted and healthcare systems readjust, we expect pent-up demand for fixed radiography and fluoroscopy systems to be quickly realised. Previously scheduled orders for 2020 may push into 2021 as order backlogs will take time to fulfill. As outlined in Figure 1, most markets segments (excluding mobile and analogue) should return to pre-pandemic performance by 2022.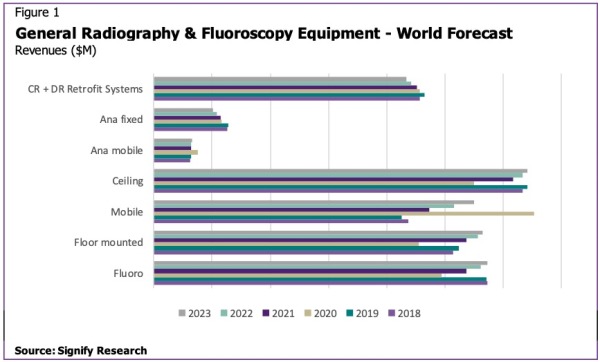 We have come to this conclusion for the following reasons:
1) Changes in demand for imaging procedures is temporary, and likely to surge post-COVID
Changes to market conditions in Q1 2020 were rapid as the COVID-19 pandemic escalated, creating a shock to healthcare systems. In their reaction, healthcare providers entered "crisis-mode" and channeled resources toward pandemic responses, sequestering budgets for critical care equipment. Previously scheduled orders deemed non-essential to this pandemic response were also delayed, with movement restrictions preventing on-site implementation activity. Elective procedures and normal operations in many clinical departments were also put on hold, leading to imaging volumes for non-critical exams experiencing massive drops. Initial evidence shows some modalities were affected more than others, see Figure 2.