by
John R. Fischer
, Senior Reporter | August 24, 2020
From the August 2020 issue of HealthCare Business News magazine
As some hospitals begin to contemplate a post-pandemic reality, there is more to consider than just resuming elective and non-urgent care.
For many facilities, it means getting back to planning capital equipment installations and deinstallations that were deferred indefinitely by the crisis.
Such projects are collaborations involving multiple parties, and a well-executed job requires a lot of preparation on behalf of the provider facility. HealthCare Business News sat down with some experts who specialize in installing and deinstalling medical imaging systems, to talk about the roles and responsibilities a provider can play in a successful job.
Communication is key
The most common issue that arises in any medical equipment logistics job is a lack of communication among all parties. This often leads to confusion around who is responsible for what, with the healthcare system or hospital unaware of what it needs to bring to the table.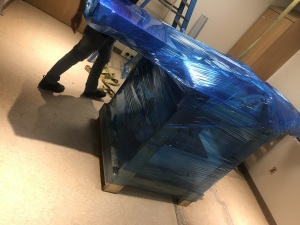 "Sometimes when the client goes to partner with Sigma for either an installation and deinstallation, we use that as a clarifying moment and explain, 'This is our role in the process'," Kathy Empie, senior project coordinator for Sigma, told HCB News. "We specifically interact with the equipment only. The responsibility of the client will be site preparation. That means hiring your own general contractor. Some examples of work that needs to be subbed out, depending on the project, could be getting a licensed electrician to install the new 480v or an HVAC service provider to disconnect and drain the MR's chiller. Sigma does not provide those services, but we can make recommendations based on contractors we have worked with previously."
Contractors and electricians are just two of the additional parties that may be involved in installations or deinstallations. If these parties do not continuously communicate their needs, many problems can occur. One problem that Gustavo Polo, owner and president of GP Medical Equipment, has seen is when the electrician shuts off the electricity during a deinstallation job. This prevents the service provider from testing the system to see if it works, should the client want to resell it, and makes it harder to remove.