Pandemic adds fuel to remote telemonitoring demand: MedTech panel
by
John W. Mitchell
, Senior Correspondent | October 12, 2020
Business Affairs
Telemedicine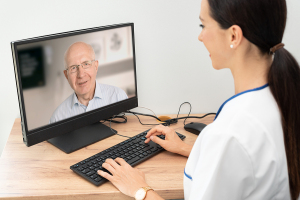 One silver lining of the COVID-19 pandemic might be the nine million times patients utilized telehealth services from mid-March through the middle of June. Compared to the 108,000 times Medicare beneficiaries received "distant site services" in 2016, those numbers may add up to a revolution unfolding before our eyes, according to a panel that presented on the last day of AdvaMed's 2020 Virtual MedTech conference.

In a session titled "Has COVID-19 Finally Untethered the Patient?" three panelists and their moderator discussed a reoccurring theme at this year's conference. Antiquated federal rules — in the case of home monitoring reimbursement approval and the 50-year-old regulations governing their use — have been laid bare by the unprecedented isolation demand of the pandemic.

"People don't want to go to the hospital to be cared for," noted Dr. Surendar Magar, president and CEO of LifeSignals Group, Inc. "They want to be cared for at home (during the pandemic)."

In his career, which included developing early Wi-Fi technology to free computing from the desktop, Magar's company developed the world's first wireless medical biosensors in 2008. The breakthrough enabled vital sign monitoring anywhere, from the hospital to home. LifeSignals is now working with many medical equipment manufacturers to incorporate their technology into an array of emerging devices and applications. One New York client, for example, is working to reduce readmission rates from about 20 percent to less than five percent, keeping patents isolated, but well cared for at home.

"Monitoring early at home saves lives and reduces (the cost of) expensive staff and equipment," he added, as well as fostering the social isolation demanded during the COVID-19 pandemic.

The leading federal agencies, CMS and the FDA, recognize that change is required. A second panelist, Richard Price, senior vice president in the Payment and Health Care Delivery Department for AdvaMed, cited congressional and CMS action at the beginning of the pandemic that overrode long-standing regulatory limitations on telemedicine and telehealth services. This included remote monitoring. It appears that some of these changes will become permanent in 2021 under changes in the Physician Fee Schedule rule.

Price also noted that the CMS administrator Seema Verma has indicated that telehealth and telemedicine access due to the pandemic is more important than costs. Indeed, the Congressional Budget Office estimates that telemedicine expansion will grow to $490 million in 2022.

The third panelist, Dr. Lu Zawistowich, president of CapView, said that baby boomers drive the telemedicine trend to age-in-place in their homes, not in nursing homes. Nursing homes proved to be superspreader sites in the current pandemic. She cited an industry survey she conducted addressing adoption and reimbursement. Medicare will need to be modernized, she reported, to provide coverage for digital medical technology.

She and the other panel members emphasized that companies developing remote technology must be ready to provide evidence-based findings supporting personalized care to change federal treatment protocols and reimbursement. The panel also agreed that Congress would need to meet the growing demand with legislative action, especially in the emerging Alternative Payment Model of reimbursement.

You Must Be Logged In To Post A Comment
Registration is Free and Easy.
Enjoy the benefits of The World's Leading New & Used Medical Equipment Marketplace.
Register Now!