By Arun Gill
The global teleradiology market is served by a broad range of vendors, including international players with operations in multiple countries, and local vendors significant in their domestic country/subregion, many producing 100,000-plus teleradiology readings of diagnostic images annually.
The teleradiology market consists of two key components, Teleradiology Reading Services and Teleradiology IT. The mix of company types falling into these components is illustrated below:

KA Imaging's Reveal 35C detector, currently available as an upgrade solution in the US and selected geographies, can now be sold in the European Union. The detector recently obtained the CE Mark. Contact us at sales@kaimaging.com to book a free demo.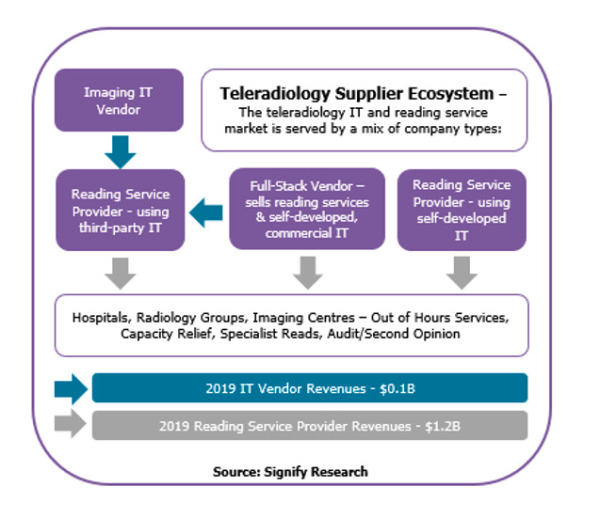 Each of the different company types are explored below, with analysis of example vendors falling into each category:
1. Full-Stack (Self-Developed Commercial IT and Reading Services)
— Includes teleradiology reading service providers that have developed their own IT, which they use to support their own services and make commercially available for third parties to purchase. Example vendors include:
Teleradiology Solutions (Telerad Tech)
Teleradiology Solutions (TRS) is an Indian-based independent provider of teleradiology services, which relies on its own technology platform arm, (Telerad Tech) and third-party IT to offer its RIS/PACS cloud-based workflow solution (RADSpa). The vendor is the largest outsourcer of teleradiology services in India. Globally, it provides an estimated 1m+ reads annually to countries including the U.S., Nigeria, Tanzania, Uganda and Singapore.
RadNet
U.S.-based RadNet entered the teleradiology market 10 years ago when it acquired eRAD (IT solution) and Imaging On Call (reading services), with the latter generating approximately two-thirds of RadNet's annual teleradiology revenues. In terms of its IT, its target customers are teleradiology service providers, reading groups, outpatient imaging centres and hospitals. The vendor was estimated to be a top-8 provider of U.S. teleradiology reading service volumes in 2019. However, revenue generated from its "Imaging on Call and Software" reportable segment has been falling in recent years, and with teleradiology accounting for <2% of RadNet's overall revenues, the ongoing decline in its teleradiology business could potentially threaten the company's long-term commitment to this market.