by
John R. Fischer
, Senior Reporter | July 05, 2021
From the July 2021 issue of HealthCare Business News magazine
In addition, mobile imaging drives revenue for hospitals that can build programs that proliferate different techniques, pharmacological options, surgical options and procedures. "It's really a win-win across the board," said Webster.
It isn't only scanners on wheels that can fill the diagnostic void for healthcare providers. Modular labs can be positioned right on the ground and make it easier for bedridden patients to be wheeled in directly, says Mark Koers, executive vice president of sales and marketing at Modular Devices, a manufacturer of mobile cardiac cath labs. "Our modular cath labs are 50%-100% larger inside than a mobile trailer and the extra space makes working in a modular lab more productive for longer-term projects and for more complicated procedures such as interventions and EP. Modular labs fit on the same size mobile pad-site as a trailer, require the same connections, and can be rented for projects as short as a few months."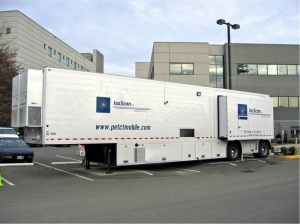 Some patients, however, cannot leave their hospital beds and require care right at their bedside. Shirley says mobile imaging is taking on a bigger role in point-of-care situations like this. with manufacturers developing equipment small enough to be transported from the tractor-trailer to the patient's bedside. "We offload the equipment, roll it into the setting and we image at the location. At the end of the day, we roll it back into the van and drive away. It's mobile but it's inside your facility imaging."
While valuable, he adds that such portable solutions will not entirely replace traditional mobile imaging scanners, which will still be needed for procedures like whole-body bone scanning. "It won't replace whole body imaging systems in mobile trailers in full. The reason you can make a lot of these systems portable is because they're built for a specific type of scan — usually one that has a high volume of clinical need."
Where demand is headed
With aging populations, higher demand for diagnostic imaging is to be expected. Mobile imaging will be especially popular in rural areas to help keep up with this demand. "This will free up the providers to use their capital for patient capacity expansions," said DMS Health's Gabbert.