by
John R. Fischer
, Senior Reporter | May 09, 2022
Philips has scored FDA clearance for its 7700 3T MR system, designed with powerful XP gradients for improved high-quality diffusion imaging.
The solution is equipped with six multi-nuclei capabilities that increase diagnostic confidence for conducting and interpreting neurological scans and add important metabolic information to exams. The system made its debut at the International Society for Magnetic Resonance in Medicine (ISMRM) annual meeting, taking place May 7 to May 12 in London. It will also be spotlighted at the European Congress of Radiology (ECR) annual congress in Vienna in July.
The system has a 65-20 gradient chain. Its XP gradient coils are able to achieve up to 35% higher signal-to-noise ratios and reduce scanning time by up to 35%. This enables radiologists to complete 20% more fMR volumes and 50% more diffusion tensor imaging directions to produce detailed high-resolution images that they can use to confidently identify and characterize lesions.

For those who need to move fast and expand clinical capabilities -- and would love new equipment -- the uCT 550 Advance offers a new fully configured 80-slice CT in up to 2 weeks with routine maintenance and parts and Software Upgrades for Life™ included.

Another valuable component is in-built AI applications such as touchless patient sensing and motion detection for addressing upswings in patient volumes that many radiology departments currently experience. "The low effort required for modifying scan parameters and protocols supports fast and easy experimentation with imaging techniques. These latest features clearly help improve our patient and staff experience and distinguish Philips as one of the main reasons we choose this system," said Walter Heindel, professor of radiology and chairman of the department of radiology at the University Hospital Münster in Germany, in a statement.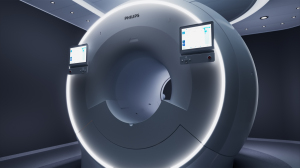 The MR 7700 can perform conventional proton MR and spectroscopy and has in-built protocols to combine proton scanning with other forms of imaging based on sodium, phosphorus, carbon, fluorine and xenon. This multi-nuclei capability makes the system a good option for anatomical and metabolic/functional imaging in neurology, pulmonology and oncology. "For every nucleus, you would get a little bit of different information. You get incremental information, and being able to get a full data set across the six, multi-nuclei gives you an opportunity to start with proton and potentially expand into the other five and get a complete picture with more information. Doctors love more information because that will help them get to a better diagnosis," Arjen Radder, general manager of magnetic resonance and diagnostic X-ray at Philips, told HCB News.