Health systems hit with worst financial performance in months
by
John R. Fischer
, Senior Reporter | September 08, 2022
Business Affairs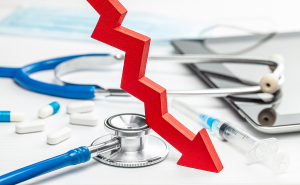 Hospitals and health systems experienced their worst financial performance between June and July 2022, following months of improvement, with outpatient revenue and operating room time dropping, and inpatient lengths of stay increasing.

The year-to-date operating margin index was -0.98%, marking a seventh straight month of negative actual operating margins. The median percentage change was -63.9% from June and -73.6% from July 2021, according to the National Hospital Flash Report from Kaufman Hall.

These poor margins are some of the worst since the pandemic and have put 2022 on track for being the worst financial year that hospitals have experienced in a long time, say Kaufman Hall experts. They attribute this to the loss of the CARES Act and stimulus funding support.

"Over the past few years, hospitals and health systems have been able to offset some financial hardship with federal support, but those funding sources have dried up, and hospitals' bottom lines remain in the red," said Erik Swanson, a senior vice president of data and analytics with Kaufman Hall, in a statement.

Volume decreases caused revenue to decline in July, with gross operating revenue down 3.6%. Outpatient volumes fell, because patients likely sought care in ambulatory settings, while operating room minutes dropped 10.3% from June. The average length of stay increased 2% from June and 3.4% from July 2021, indicating that providers are seeing sicker patients.

Inpatient revenue fell 0.7% from June and 1.5% from July. Patient days rose 2.8% from June 2022 but were down 2.6% from July 2021. Emergency department visits increased 2.6%.

While expenses dropped 0.4% from June, the decrease was not enough to offset revenue declines. They were also up 7.6%, compared to July 2021.

Swanson says hospitals and health systems should view this as a warning that they must be strategic and make investments that will drive performance to achieve long-term growth, in spite of the day-to-day financial pressures they face.

"2022 has been, and will likely continue to be, a challenging year for hospitals and health systems, but it would not be prudent to focus on short-term solutions at the expense of long-term planning," he said.

The findings were based on Syntellis data from more than 900 hospitals.
You Must Be Logged In To Post A Comment
Registration is Free and Easy.
Enjoy the benefits of The World's Leading New & Used Medical Equipment Marketplace.
Register Now!