by
Robert Garment
, Executive Editor | April 08, 2009
This story originally appeared in the April 2009 issue of DOTmed Business News
Hackensack University Medical Center (HUMC) is an impressive complex of 14 buildings spread over several acres. At its heart is a 775-bed teaching and research hospital affiliated with the University of Medicine and Dentistry of New Jersey - New Jersey Medical School.
HUMC
has more than 7,200 employees and an annual budget of over $1 billion. There are more than 1,400 physicians and dentists on staff. HUMC is the largest provider of inpatient and outpatient services in the state of New Jersey, and it's a very busy place. For example, in 2008 alone at HUMC there were more than:

For those who need to move fast and expand clinical capabilities -- and would love new equipment -- the uCT 550 Advance offers a new fully configured 80-slice CT in up to 2 weeks with routine maintenance and parts and Software Upgrades for Life™ included.

· 6,200 babies born
· 76,000 inpatient admissions
· 77,000 CT scans performed
· 105,000 visits to the emergency room
· 5,347,000 pathology procedures performed.
This award-winning facility that has just about everything is missing the one thing most other hospitals have in abundance: that pervasive, not-so-pleasant "hospital smell." And for that, the patients, visitors, and staff alike have environmental advocate Deirdre Imus to thank.
How fast can you turn around an ocean liner?
To get a facility the size of HUMC to make any large-scale change - such as revamping their entire housekeeping process - is a daunting undertaking. It's somewhat akin to turning around an ocean liner steaming at flank speed.
So what kind of person would approach HUMC's President and CEO to convince him to "green" such a bustling facility - particularly given the rigorous standards for cleanliness a hospital must maintain?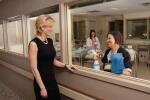 Meet Deirdre Imus, and learn what makes her tick
Deirdre Imus began to take a serious interest in the correlation between the environment and an individual's health when she was attending college at Villanova. "Because I was involved in athletics at school, I wanted to be as fit as possible. I learned how variations in my diet could affect my performance on the track. I paid attention to the food I ate, and it was easy to extend that concept to all the things that could affect my health, and of course, that's everything you come in contact with on a daily basis," Mrs. Imus