by
Diana Bradley
, Staff Writer | November 13, 2012
From the October 2012 issue of HealthCare Business News magazine
Lead alternatives: Industry eyes tungsten
Although it is possible for lead to be safely handled and utilized in shielding applications, the associated risks are spurring some medical shielding manufacturers to hunt for lead-replacement materials. There are some considerations that generally weigh in favor of alternatives to traditional solutions, such as specialty thermoplastic resins and other metals.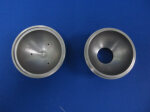 "A very popular replacement at the moment is tungsten, which can stop all types of radiation," says Tungsten Heavy Powder's Sery. A grayish-white, lustrous metal, tungsten is one of the densest naturally occurring elements, with its name derived from the Swedish word "tung-sten" meaning "heavy stone." Its primary deposits are found in the European Alps, the Himalayas and the Pacific Rim.
"Tungsten-filled polymers block radiation at the same rates as lead and provide radiation shielding and attenuation up to, and including, a one-to-one equivalency to lead," says Thogus's Wolff.
Typically, tungsten is used in radiation, nuclear, PET and SPECT shielding. But manufacturing a plastic material resistant to EMF and RF can be challenging. To accomplish this, Thogus adds a carbon or stainless steel fiber filler to the plastic compound to achieve some form of static dissipation.
Additionally, while lead is supple, tungsten is brittle, making it much more difficult to work with and shape. The production rejection rates are higher as is breakage with tungsten, Bogutski notes. To get over this hurdle, Tungsten Heavy Powder has a unique process. The company uses a high-density tungsten powder, as opposed to regular tungsten powder. Instead of mixing the powder together to pour into the cavity, Sery creates the component – which is a mixture of high-density powder and epoxy – by packing the powder in a mold and vacuuming the polyurethane into that compaction. It is then cured in a furnace, resulting in tungsten that resembles a high-density solid block.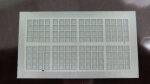 "High-density tungsten powder has a certain morphology to it," says Sery. "The shape of the particle is unique and conducive to the higher density when packed into a volume or space."
Bottom dollar: Lead wins when money is thrown into the equation