by
Carol Ko
, Staff Writer | August 16, 2013
From the August 2013 issue of HealthCare Business News magazine
A couple of years ago, deal-of-the-day sites like Groupon
seemed to be everywhere. Social media sites heavily advertised their deals. Many businesses sought to use them as marketing tools to drive customer traffic—including centers that offer laser hair removal services.
The business model is relatively straightforward: the site offers a deal a day, and if a certain number of people sign up for the offer, then the deal becomes available to everybody. Groupon pockets half the money the customer pays for the coupon while the other half goes to the retailer.
But the practice has had unintended consequences for the U.S. laser hair removal market. "Laser hair removal is now trending in the direction of waxing—so many centers have it. The profitability is just not there so that part of it is becoming very different," says Dr. Jayson Dupré, medical director of Strella MedSpa. He argues that vast discount modalities have decimated any residual value in the treatment. "So many centers have encouraged a race to the bottom on price. As providers of service, we need to be mindful of the impact that undercutting price does to the market," he says.
Indeed, the commoditization of the market has led to slowed growth in recent years. "In the U.S., though hair removal and skin rejuvenation remain consistently in-demand and are well-established procedures, these will not experience the strongest growth," says Jeremy Seath, market research analyst at Millennium Research Group.
While there was initially widespread curiosity on how sites like Groupon may help drive business, some centers that tried the marketing tool once or twice claimed it wasn't very helpful for business growth. Why? It boiled down to a question of demographics.
Experts like Dupré allege that the kind of customer who would come in for inexpensive hair removal treatments weren't the kind of patients who would completely run the course on hair removal or weren't coming in for additional procedures like Botox or laser resurfacing.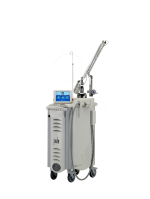 Some centers faced a second challenge when large numbers of people responded to Groupons: their schedules got overwhelmed with patients they weren't making money on and they didn't have the room or the staff capacity for patients who were paying the normal price. "Most of the practices that we're aware of tried, found it was not beneficial and didn't continue with those," says Robert Ruck, vice president of worldwide marketing at Sciton.
However, not all industry experts are anti-Groupon. "A wave of consumers who otherwise wouldn't have sought aesthetic treatments may test the waters with hair removal through these deals and ultimately opt into more complex treatments, such as body contouring," says Jane Smith, marketing manager at Alma Laser.