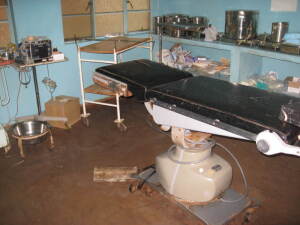 World Vision's original focus was to build hospitals and provide staffing, but that function transitioned to local governments providing bricks and mortar and staffing, while the group focused on providing training. They also provide supplies and equipment that those hospitals have difficulty obtaining.
The delivery room is an area where they feel they can make a significant impact with simple solutions. For example, Scheiman said, a recent study found that newborn deaths can be decreased by 41 percent with good handwashing habits, so they are teaching those protocols.
Story Continues Below Advertisement
Get financing today. We say YES more! Easy, Fast, Application. Pick the payment that best works for you. Tax Benefits + Leasing = Huge Savings! NEVER BE OBSOLETE. NO DOWN PAYMENT. FIXED MONTHLY PAYMENT. MRI, CT, Ultrasound, Digital X-ray, Dental Equipment
Today, World Vision sends 40,000 pallets, much of it maternal- child health supplies, to 35 to 40 countries a year.
Scheiman also said that over the past five years they had had significant success in treating child malnutrition. In that time, World Vision has treated 1.5 million children with severe, acute malnutrition, with 89 percent of those children making a full recovery.
"We can restore them to full health in two months. I think sometimes people see the news and photos from around the world and think things are hopeless, but that just isn't the case," he said. "Worldwide, the infant mortality rate, maternal mortality rate, and malnutrition rates have all decreased by more than 50 percent since 1990. So, we're making incredible progress. But a lot still needs to be done. The good news is we know what works."
From biomedical equipment training to disaster response
MedShare, a national nonprofit that also redistributes contributed medical supplies, uses a multi-prong strategy in its mission to improve global health in 100 countries – including the U.S.
"There is an enormous amount of need in medically underserved communities around the world," said Charles Redding, CEO and president. "There are qualified healthcare providers in these areas losing patients all because they don't have the supplies and equipment they need to save lives."
| | | | |
| --- | --- | --- | --- |
| << | Pages: 1 - 2 - 3 - 4 - 5 | >> | |