by
John R. Fischer
, Senior Reporter | August 17, 2020
From the August 2020 issue of HealthCare Business News magazine
"We've seen a lot of hospitals and imaging centers create more stringent policies to come on-site and do work, and so we have to adapt to those local and facility policies," he said. "Sometimes those differ tremendously from one facility to another. It was a little complex for us, but we wanted to make sure we were following those local policies in addition to our customer policy."
Service providers also have to be more flexible in when they perform preventive maintenance, scheduling it around the needs of their customers. This has led to some working during off-hours, including on weekends and even as late as midnight, to avoid delays when care is critical.
The need for social distancing has also forced independent service organizations to rethink the way they do business at their own facilities.
"We recognized that what we needed to do was spread people out," said Moorey with TRIMEDX. "Find other locations or split shifts and limit the number of people in the shops. If we did have a person come into contact with a positive patient, we made sure that they did not put everyone at risk. This has helped TRIMEDX limit the number of associates who could be potentially exposed."
Crothall addressed this issue by setting up a system for identifying which vendors are available and safe to do on-site jobs. "To provide optimum transparency in our systems, Crothall instituted a specific code for PMs impacted by the pandemic to identify which device vendors could not come onsite to conduct preventive maintenance, or which PMs were otherwise deferred due to the pandemic (allowed under the CMS Blanket Waiver)," said Sheila O'Donnell, VP, Technical Resources Group, and Shashi Avadhani, regional vice president of Crothall Healthcare Technology Solutions. "Deferred PMs affected by COVID-19 will be reported separately through the EOC and other governance structures for regulatory compliance."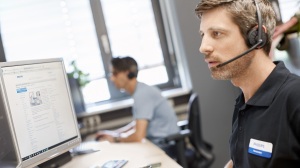 Service from a distance
With hospitals limiting the number of people in their facilities and service providers looking to avoid on-site visits, remote monitoring and telecommunications have become crucial preventive maintenance tools.