by
John R. Fischer
, Senior Reporter | August 17, 2020
From the August 2020 issue of HealthCare Business News magazine
More-stringent disinfection policies and limiting the number of servicers arriving on site for a particular job may also be long term consequences.
"As part of our standard operating procedure, customer products arriving at our facilities are disinfected upon arrival and cleaned with hospital grade disinfecting products exiting our facility," said Lucidi with Innovatus Imaging. "Operationally, we've implemented work from home for certain roles which has allowed us to minimize the number of individuals in each facility. Furthermore, our teams have taken additional steps, such as implementing workspace distancing, limiting access to common areas, actively cleaning workspaces, and high-touch areas and maintaining strong hygiene practices."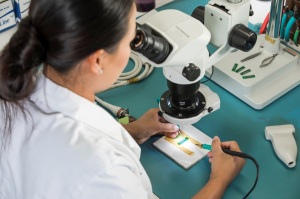 Service providers and hospitals alike will continue to rely more on remote monitoring to limit exposure, as well as online classes to educate not just independent service engineers but hospital in-house service teams, too.
"We have transitioned many of our classes to online learning and have opened nearly 1600 additional online, virtual training opportunities as of June," said Stevens. "Philips continues to invest in e-learning by developing virtual machines for a better remote experience, increasing communication quality and cadence to keep engineers informed, and developing training content specific to remote diagnostics and repair."
Hester with TRIMEDX expects COVID-19 to speed up the transition of patient care (and equipment service, with it) beyond hospital walls.
"Providers are looking at telehealth as well as hospitals at home―how they can get care closer to the patient. We will continue to support them in that process―as they continue to expand and distribute care―which will increase the need for technology and data we have, like remote monitoring, utilization and cybersecurity."
Improvements in emergency preparedness protocols will also be a big focus moving forward in case a resurgence or other pandemic should occur.